Trip report: US Pacific Northwest, September 2023
I recently returned from a weeklong flying trip up the west side of the United States. It's been a goal to explore the west coast by air for a while, and this time it finally mostly worked out.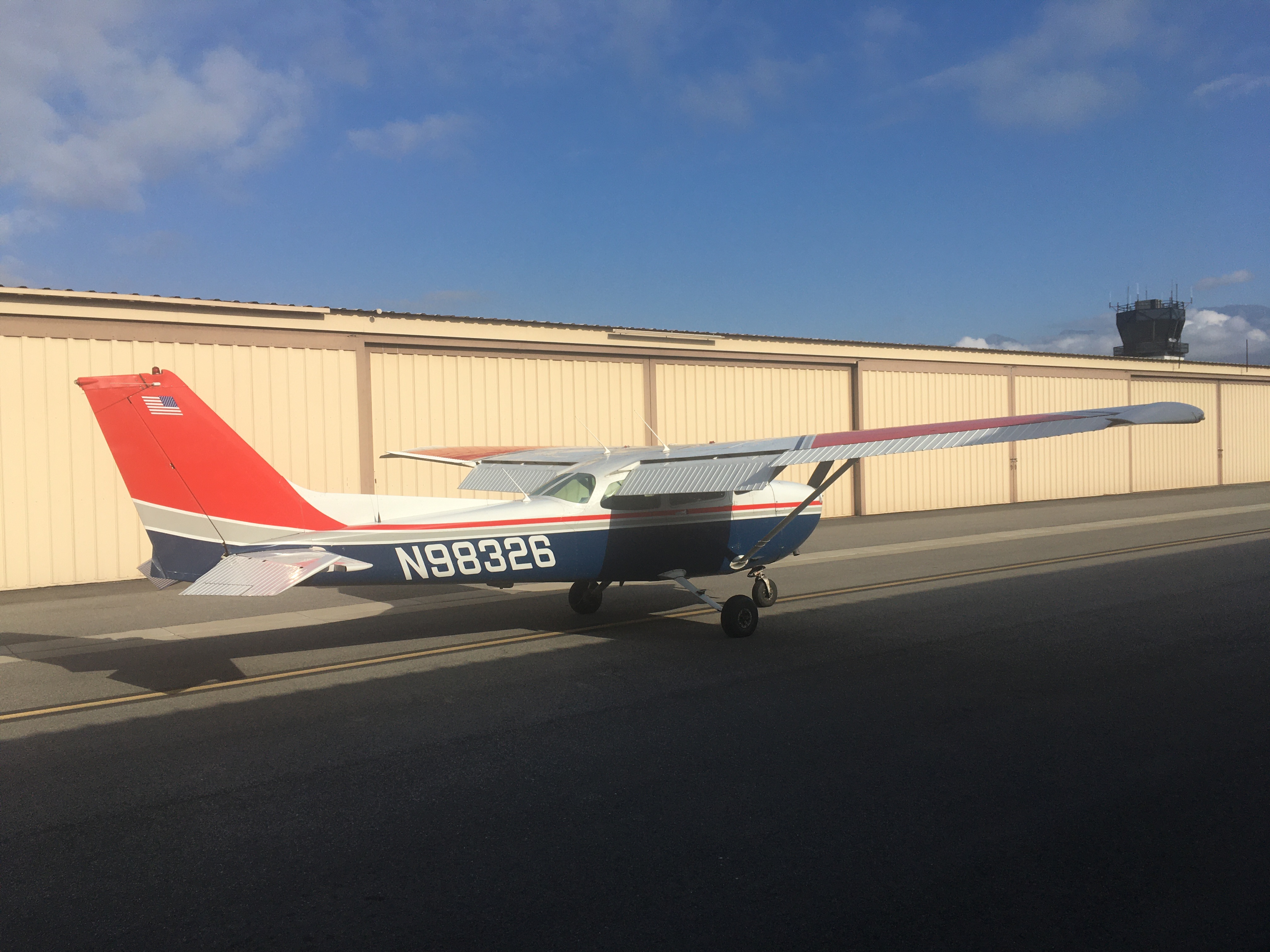 This is my first big trip with N98326. It's a Cessna 172 with an upgraded engine; it cruises a little faster, climbs a little quicker, and can carry more weight than the one I usually fly. Not that I was pushing the weight limit, flying solo with a little baggage and a 25-pound folding bike in the back seat. And you're not going for speed in a 172. This is a plane that's fast enough to get places, but slow enough to see countryside, and to make decisions as conditions change. It's relaxed flying.
The first two days were spent… at home in Altadena. Just as I was ready to go, clouds rolled in that blocked all the exits from the Los Angeles basin. The days were spent replanning, re-checking the weather, and adjusting goals. I eventually got out on Monday, with the clouds clearing in the early morning.
With two days lost, I did my best to make up time. The first day was about getting as far north as I could. The plane carries a little over 4 hours of fuel at full-speed cruise, and while the legal requirement is to keep 30 minutes of that as margin, I prefer to have an hour. Winds affect your range and can be hard to predict precisely, so for the first leg I had several airports selected, each about 10 minutes past the last, and flight elapsed times set for each one to allow me to proceed to the next. I also made use of the in-flight advisory service to get real-time wind updates, which allowed me to change altitudes to get a reduced headwind; that alone probably saved me seven minutes and allowed me to get to the furthest of my candidate airports, Placerville, California.
I ordered a pizza delivered to the airport, fueled the plane, checked the weather, ate half the pizza, put the rest behind the pilot's seat, and took off.
From Placerville, I knew I could comfortably get to Roseburg, Oregon, with another 3-hour flight – airports are sparser in the Cascade range in southern Oregon, so the earlier strategy of flying 'til you run out of time isn't as applicable. I passed along the west side of Mount Shasta, and followed low(er) terrain over Siskiyou, Ashland, and Medford. Roseburg was in the clear, despite a forest fire a few miles west of the airport. I fueled up again, ate the rest of the pizza, and checked the weather once more. Forecast clouds were high enough to get underneath with plenty of terrain clearance, and sunset was far enough away that I would clear the high terrain before dark. I picked a destination among the Portland-area airports and, passing by Salem, Eugene, and other inland cities of Oregon as the sun set, landed at Troutdale.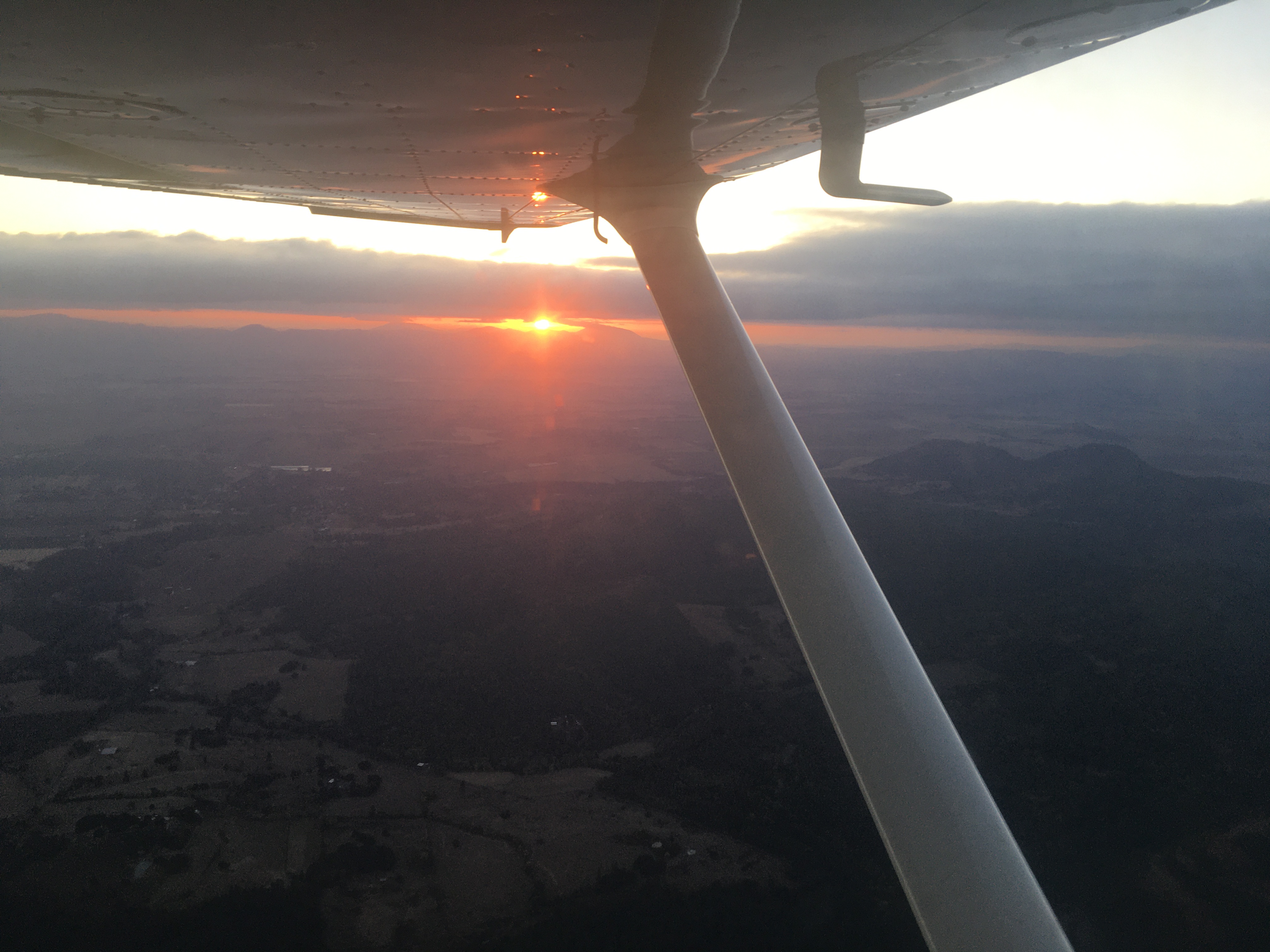 There's a hotel very close to the airport, but not so close to the gate in the fence by the parking for visiting airplanes. This is what the folding bike is for. I pedaled over with my flight planning gear, my computer, and a change of clothes and such, and got some sleep.

In the morning, I was back at work. We had a four-hour Operational Readiness Review for a new onboard autonomy system for the Perseverance rover and I had slides to present and questions to answer. The flying school (Gorge Winds Aviation) at Troutdale was kind enough to lend me their classroom for the morning so I could do the ORR while gazing out the window at my plane, the runway, and the clouds gradually clearing over the forested hills. And then I flew to Seattle.

I've actually tried to do this trip before. In June and July of 2022 I flew north hoping to make it to Seattle and area, but weather in Oregon and Washington got in the way, and I ended up exploring the redwood forests of northwestern California, the coast near Eureka, and the Crater Lake national park, Klamath national forest, and Lava Beds national monument. That was a great week in the end, but if you want to get to Seattle you have to go while the weather lets you, and make your way back in stages as conditions allow.

This time, the weather was good enough to go, and was in fact forecast to get worse over the coming days. So Portland and area would have to wait while I took my chance to get further north. I took off, and was treated to views of the main mountains all along the way – Hood, St-Helens, Adams, Rainier. St-Helens is noticeably less pointy than the others, having blown its top just over 40 years ago; other effects, like a river channel through the forest which seemingly flows over ash deposits, are also visible.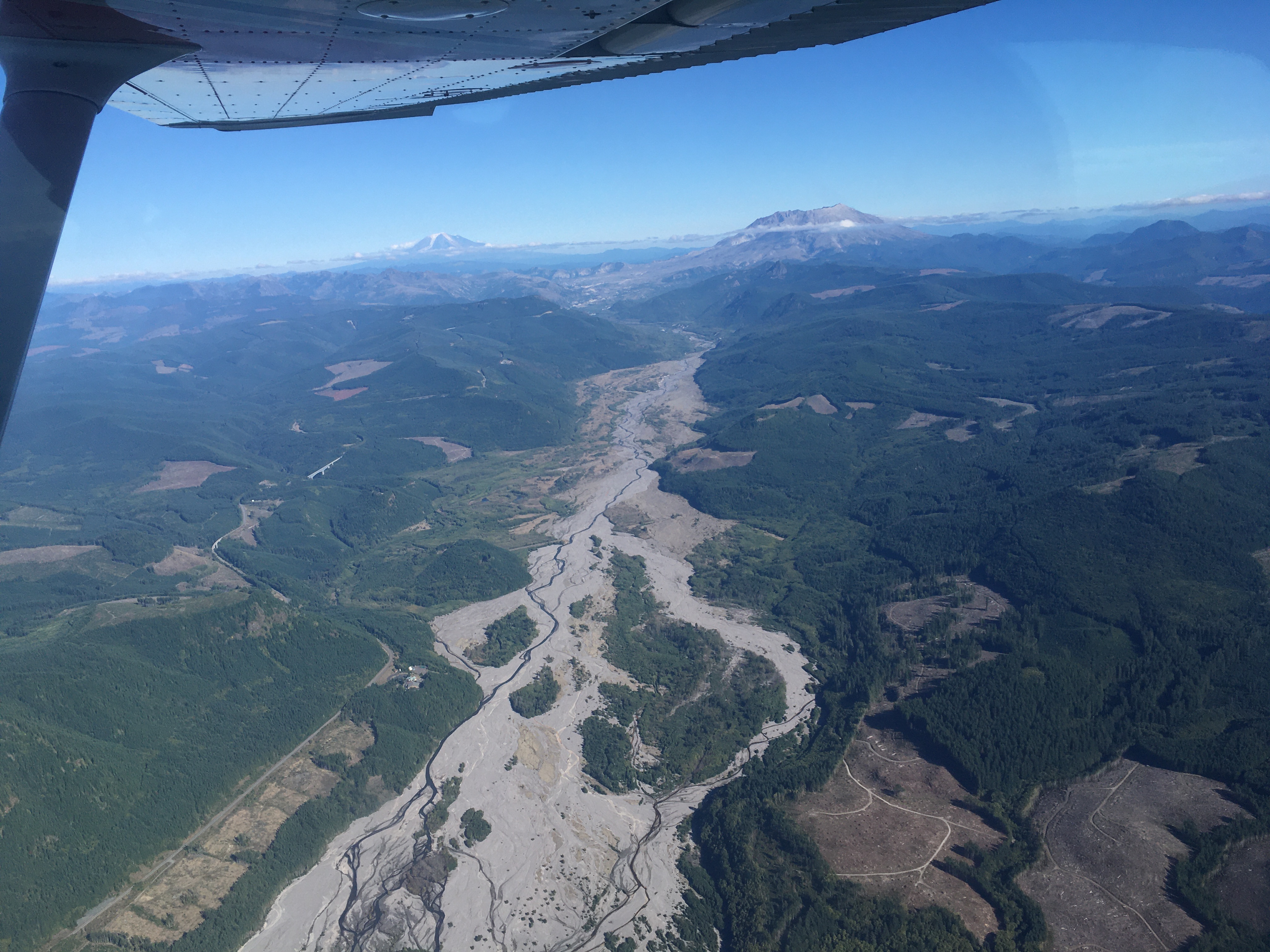 Seattle is like Wichita or Toulouse; it's got several airports, but one of them is very associated with a big name in the aircraft manufacturing business. Boeing Field is a very busy place, and there are special procedures for arriving VFR. But it's somewhat convenient to the city centre, and as it turns out the views on the way in are amazing.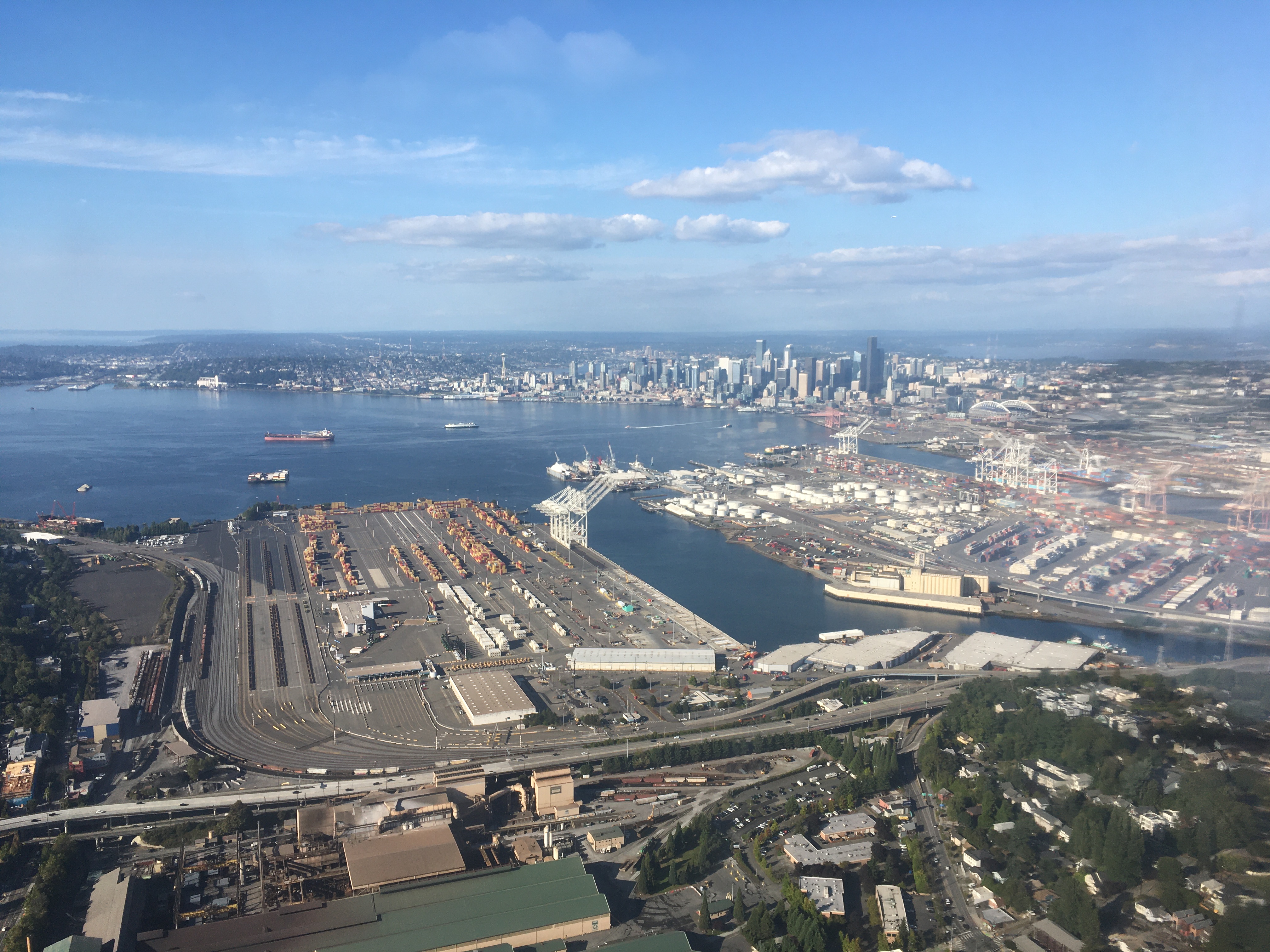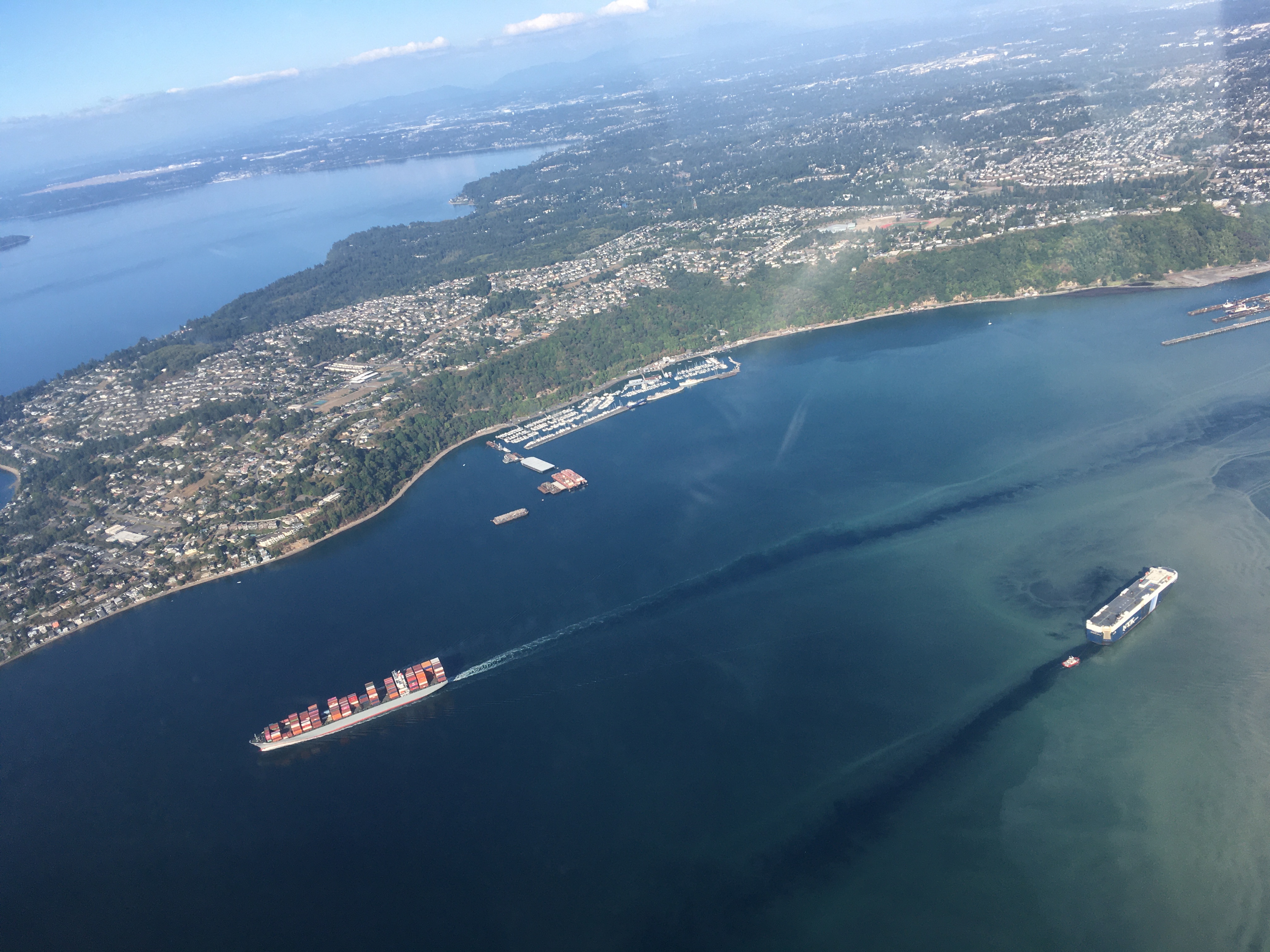 I ended up landing just ahead of a Boeing 777 on testing flights, a non-typical experience when flying a Cessna that approaches at 65 knots.
I had the evening to explore Seattle, walking along the waterfront and through the downtown and market district, riding the subway and monorail, and relaxing after two busy days in the plane.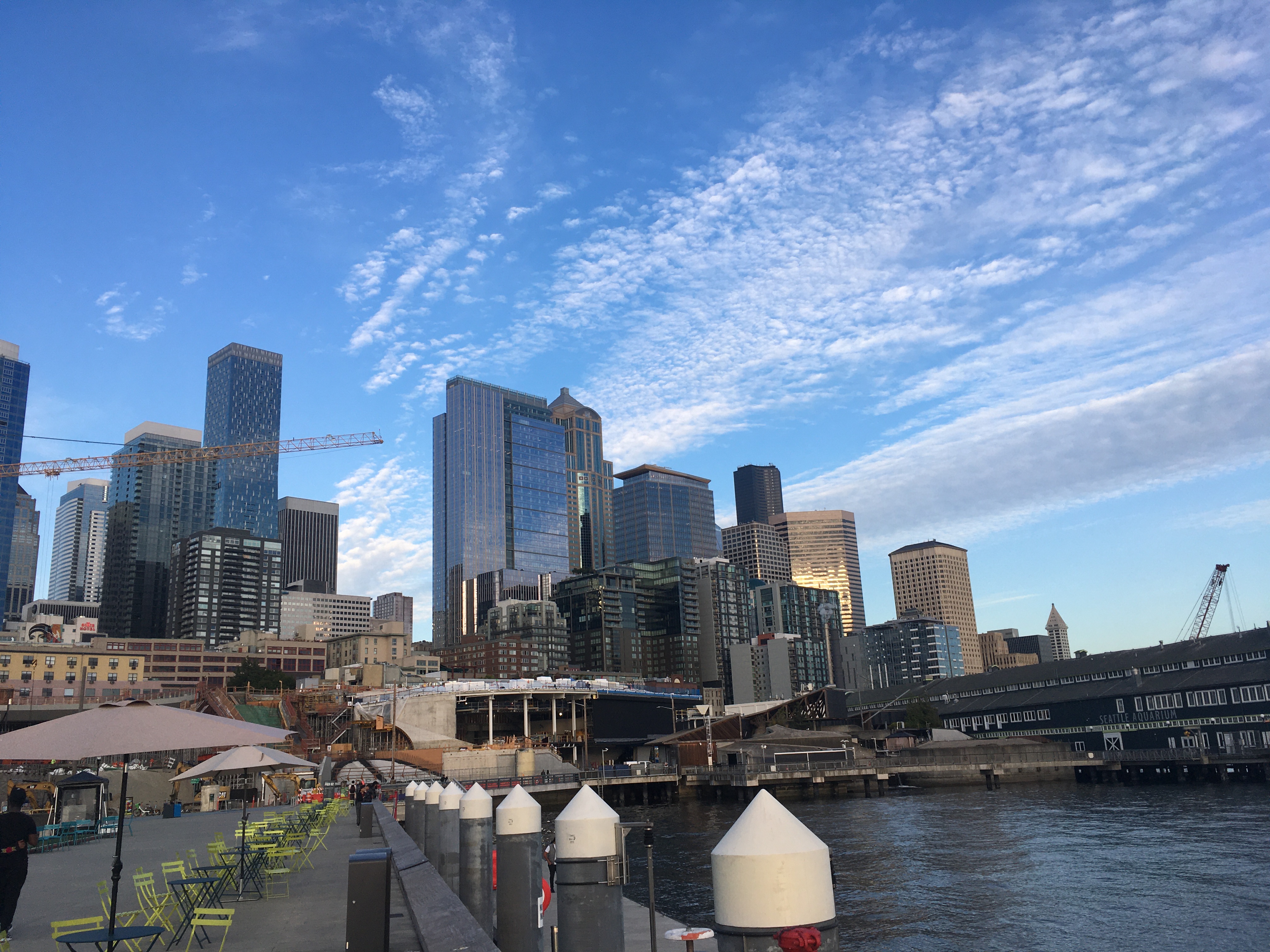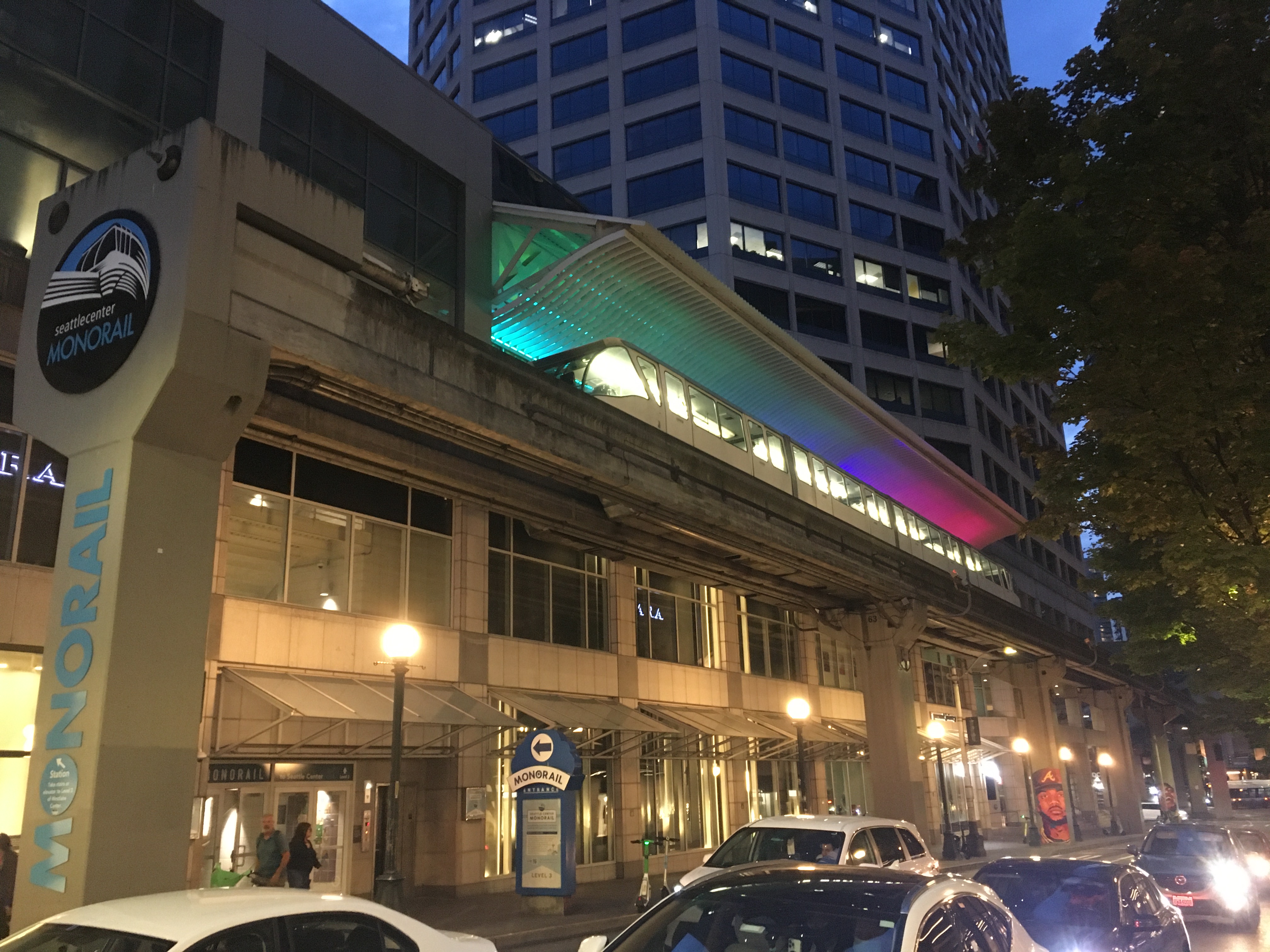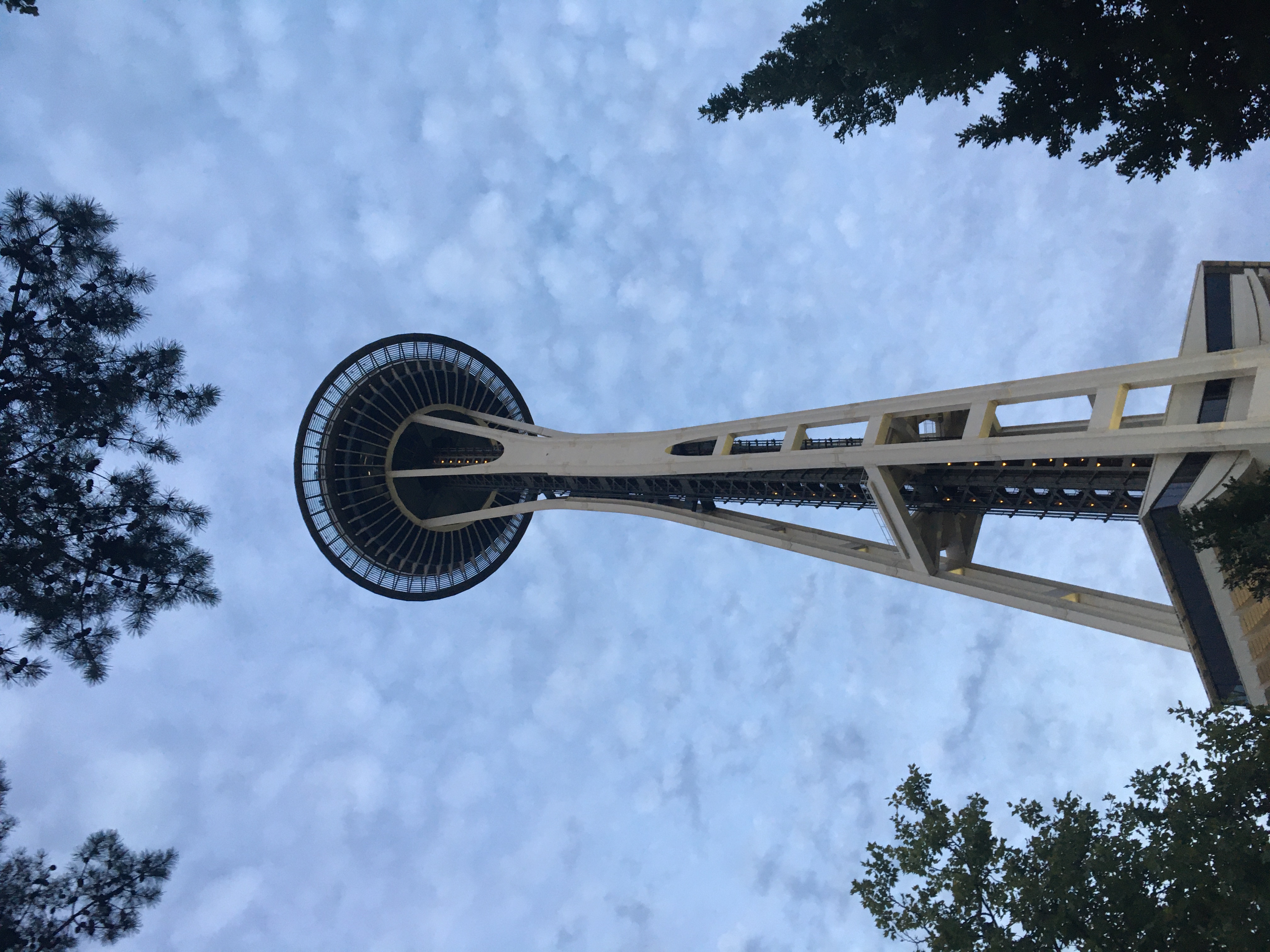 Wednesday morning I rented a car and drove out to a trailhead in the mountains to hike to an alpine lake called "Twentytwo". It was a gorgeous spot to have lunch before hiking back down.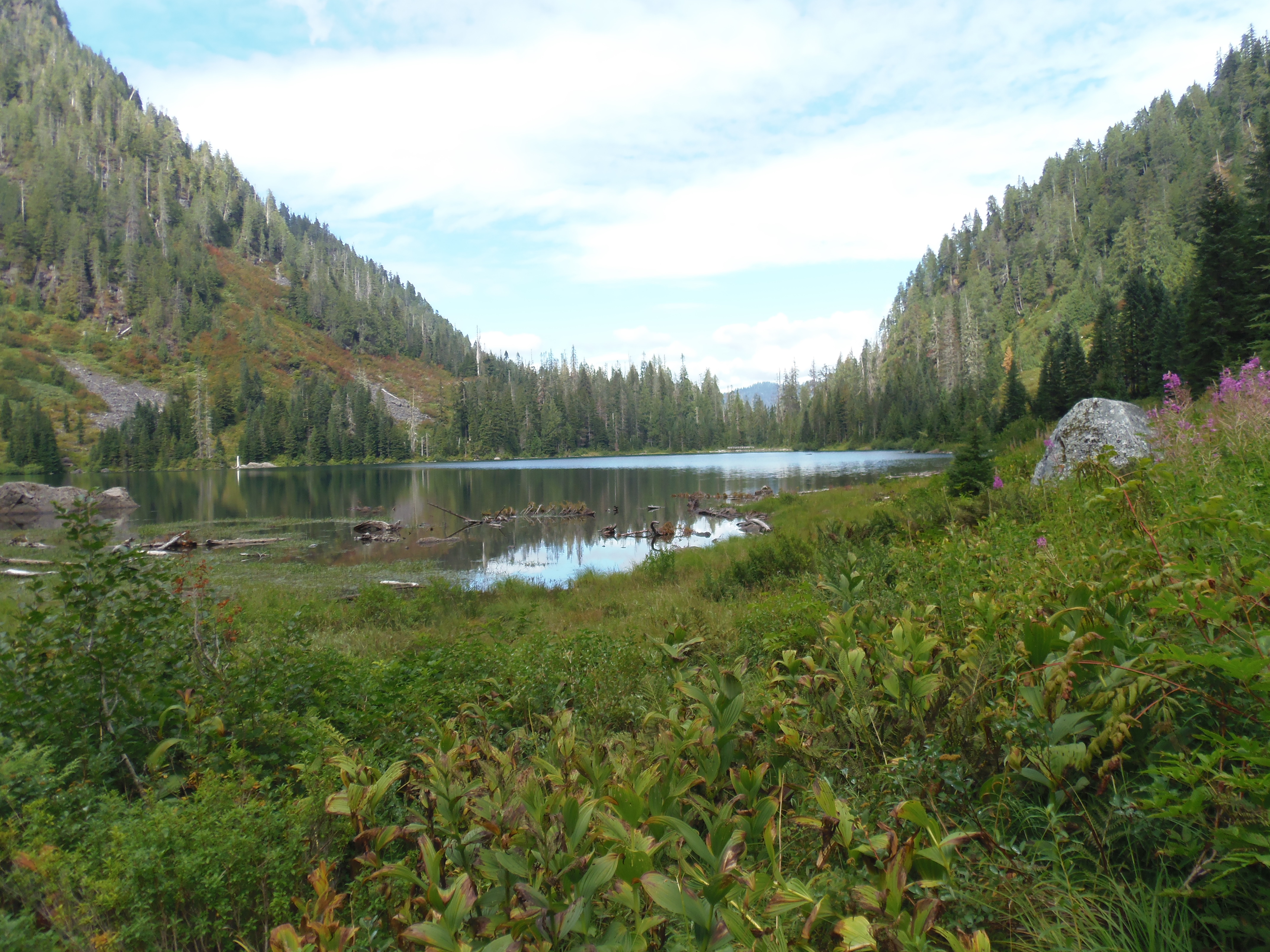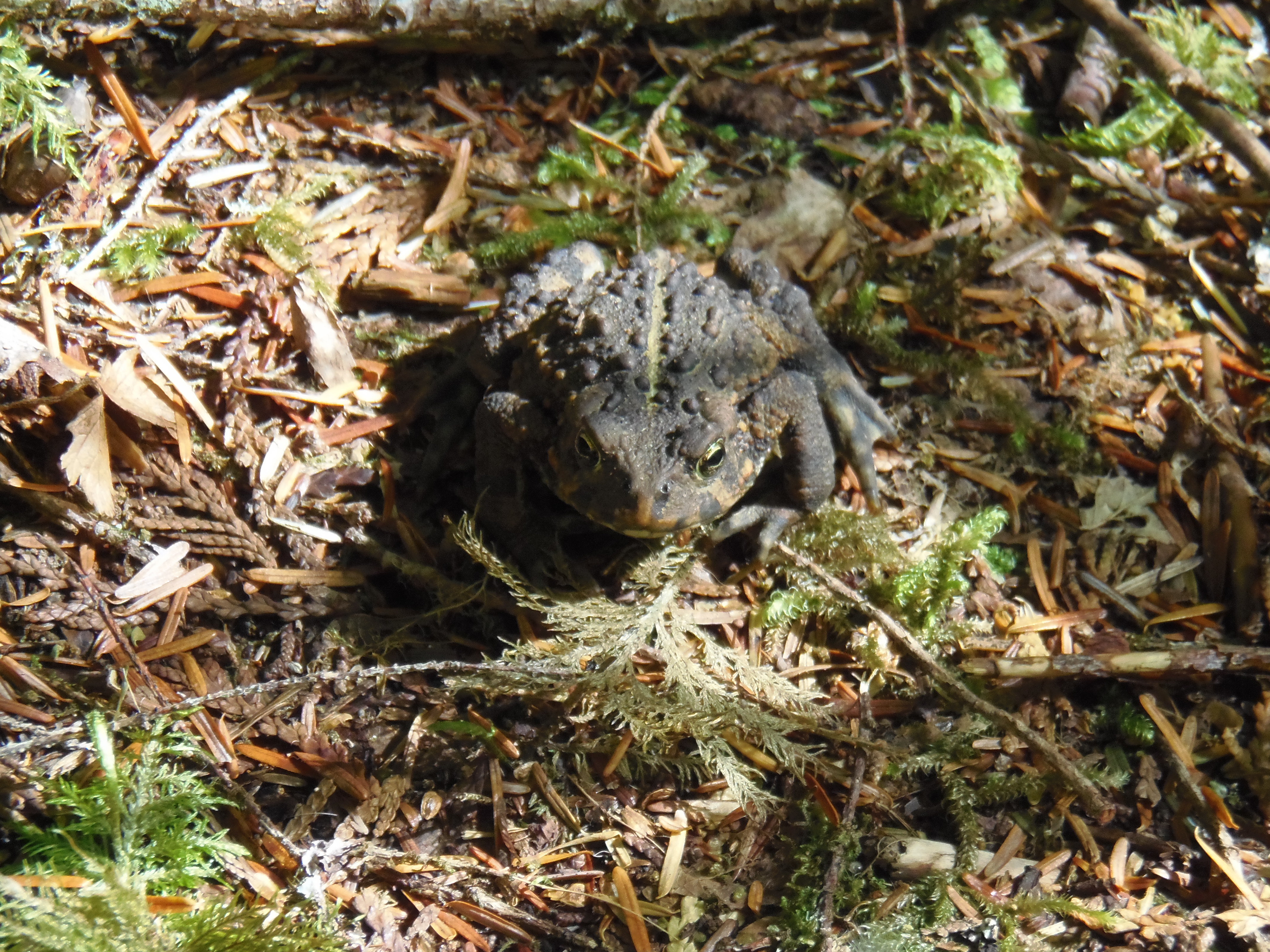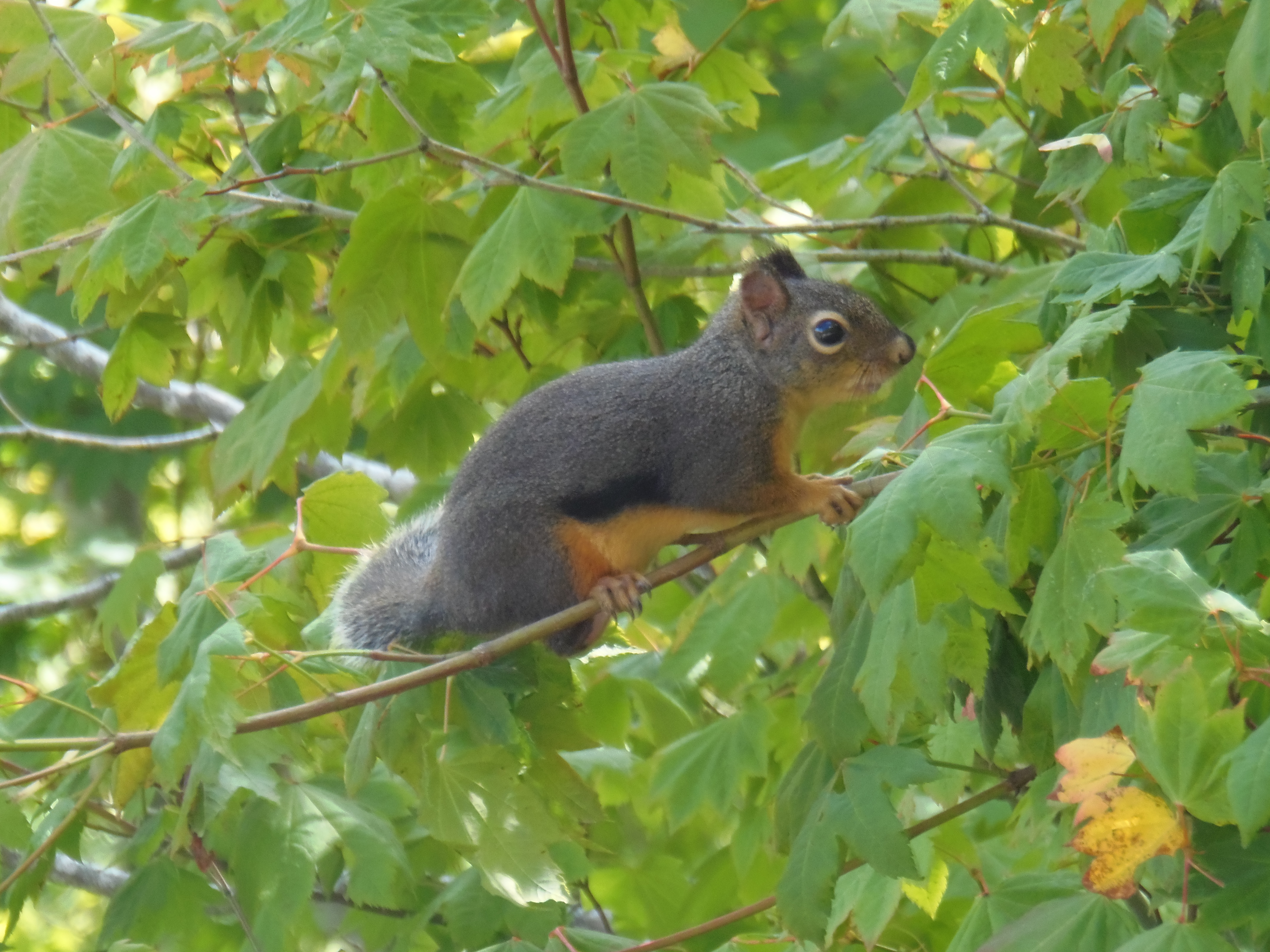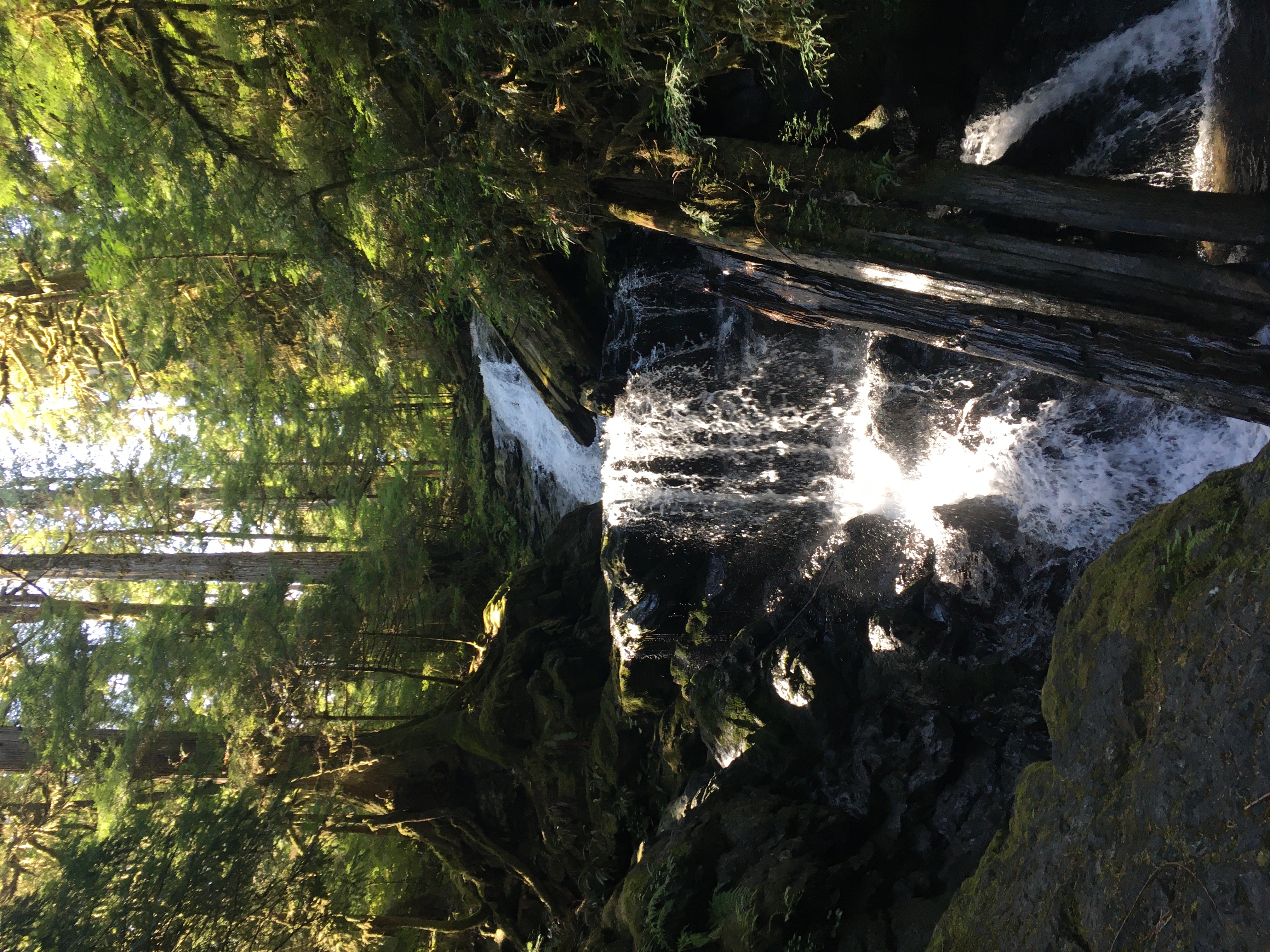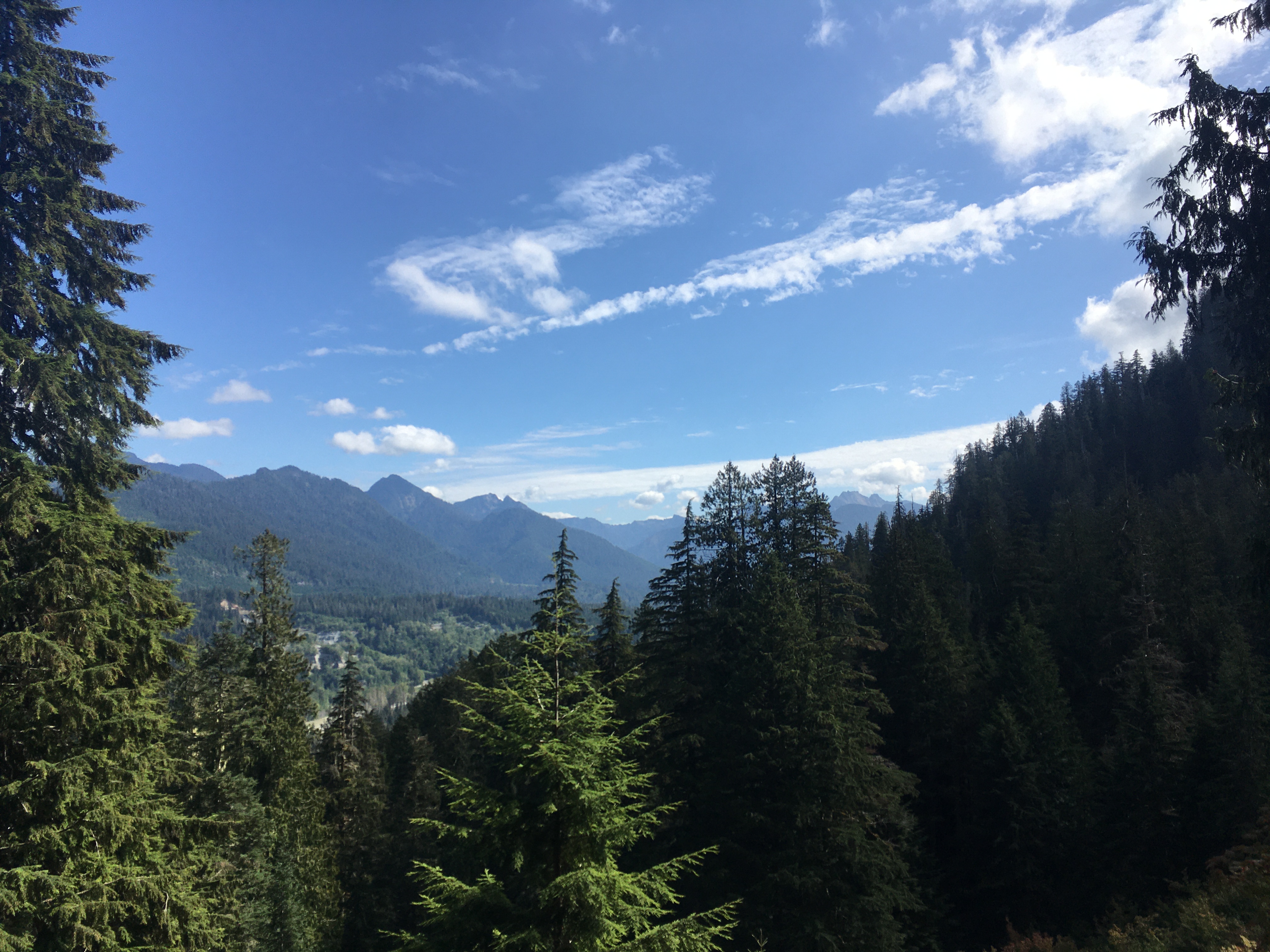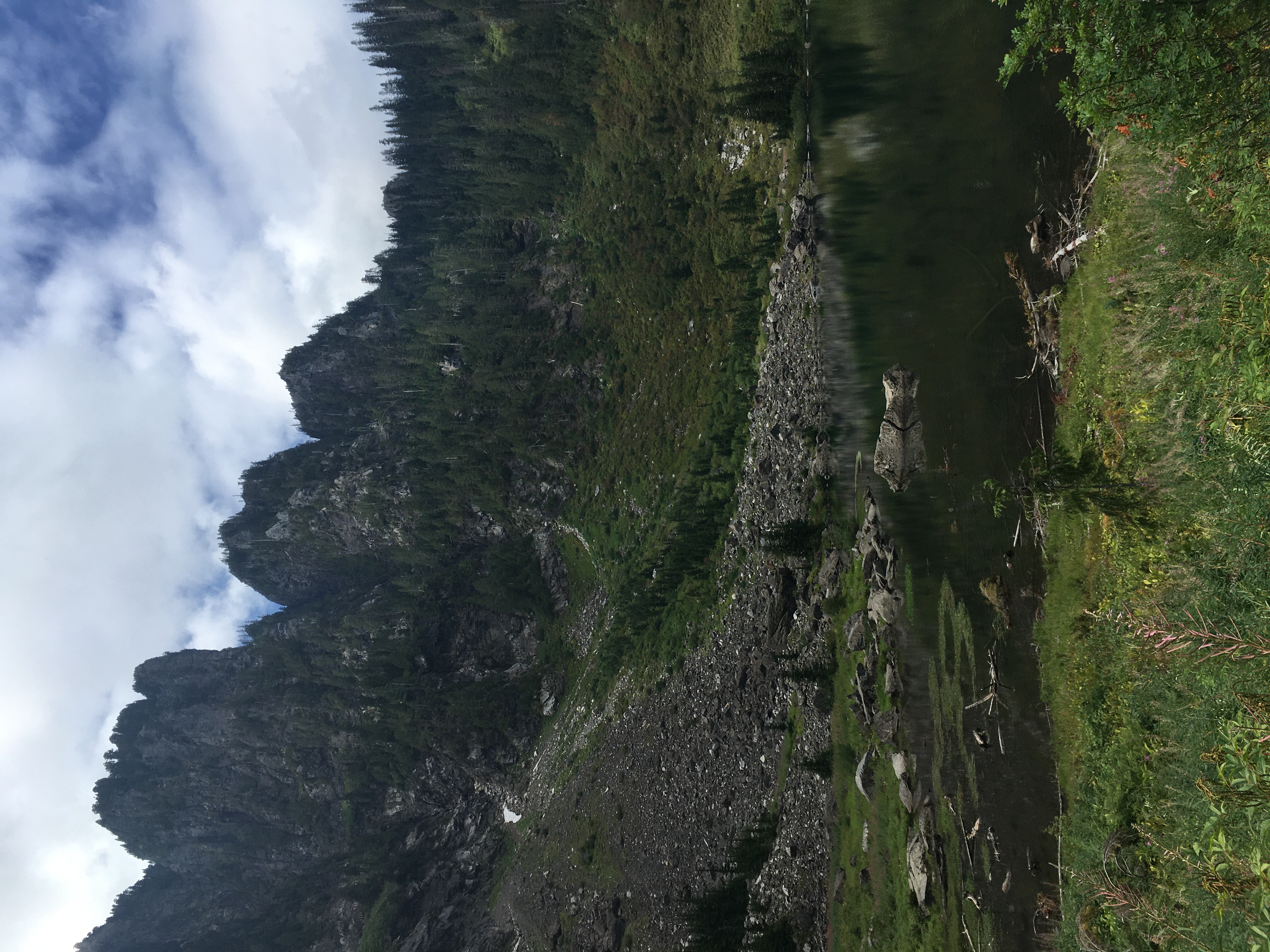 I then drove to Snoqualmie, to visit the falls and look at the town, and North Bend, to have dinner at the well-known diner.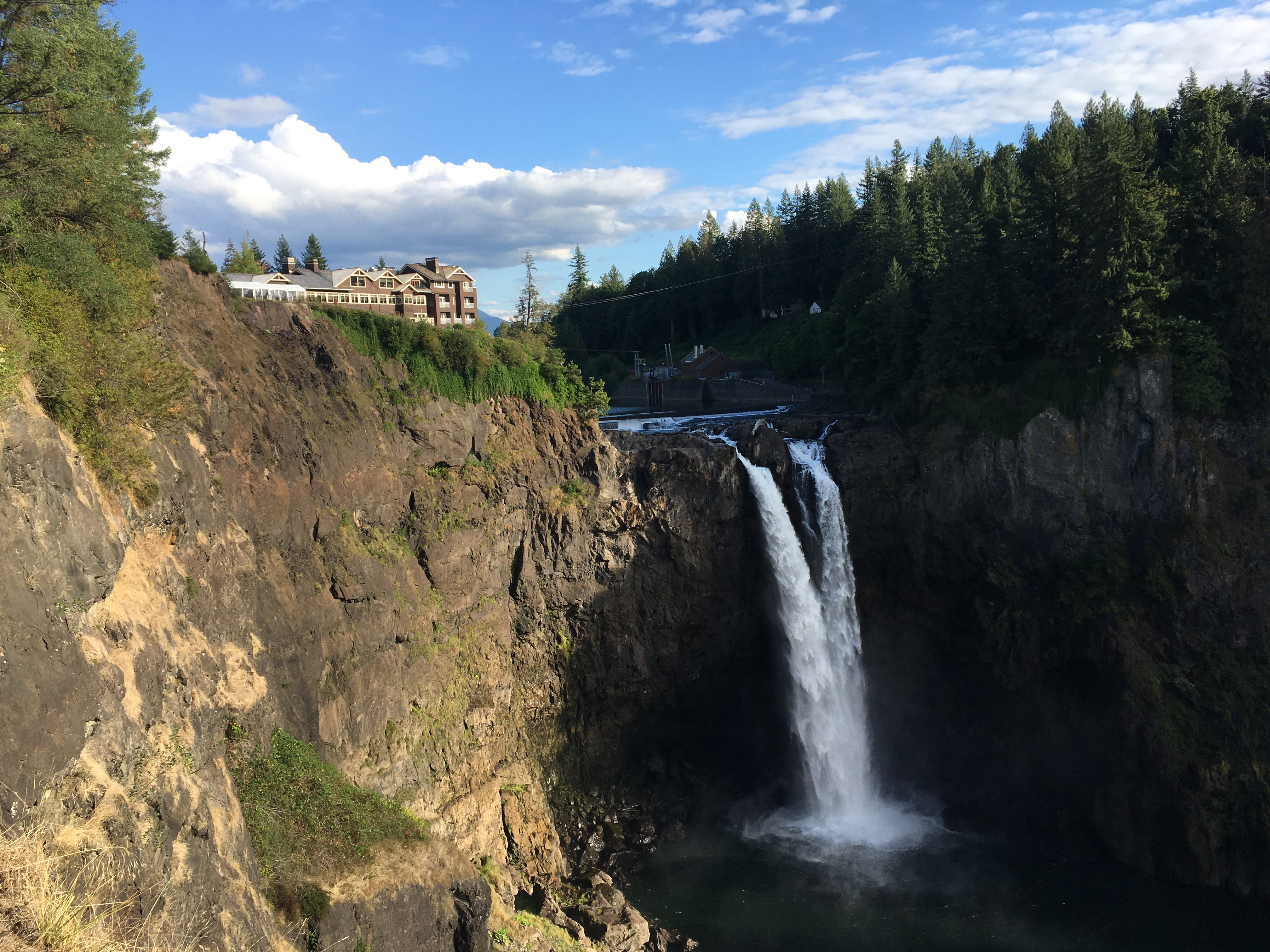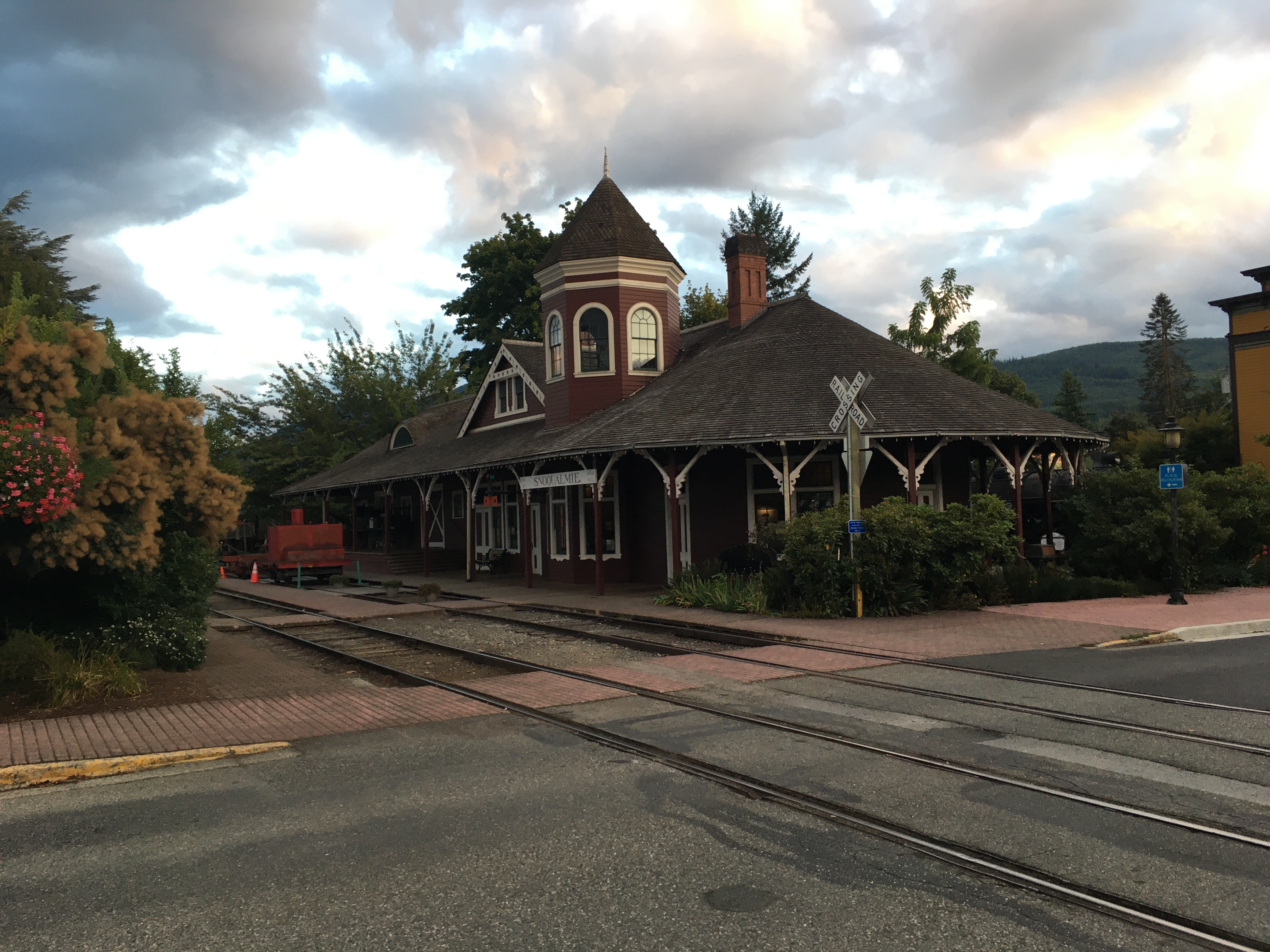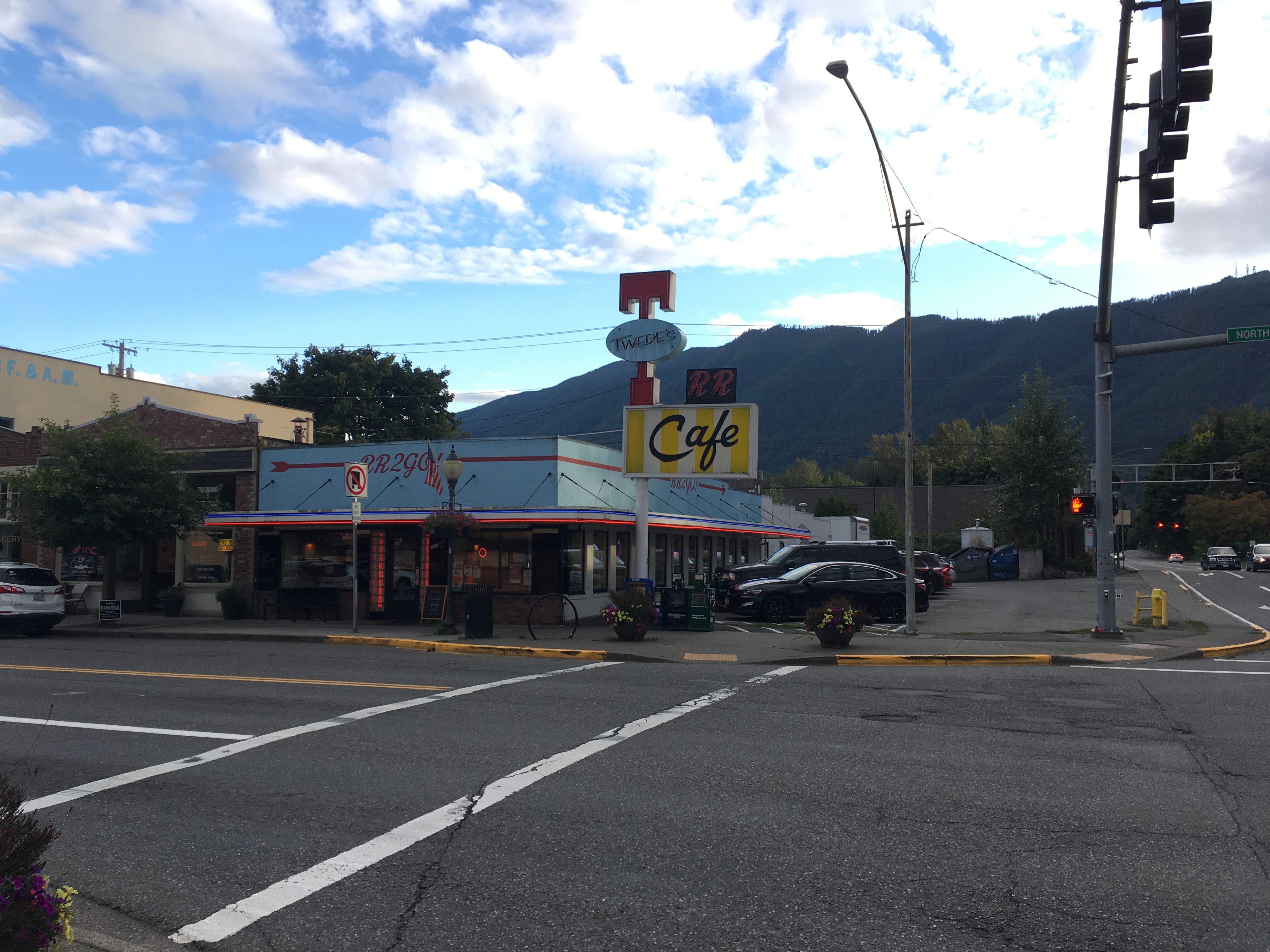 The weather on Thursday morning wasn't as hoped; I was stuck on the ground for a few hours. This was a chance to explore Pike Place Market (which has a greater diversity of fish than the name suggests) and have some seafood for lunch. The clouds were clearing by the early afternoon, and I was soon back to my little plane, parked next to a Boeing 767, to do preflight checks and depart to the northwest.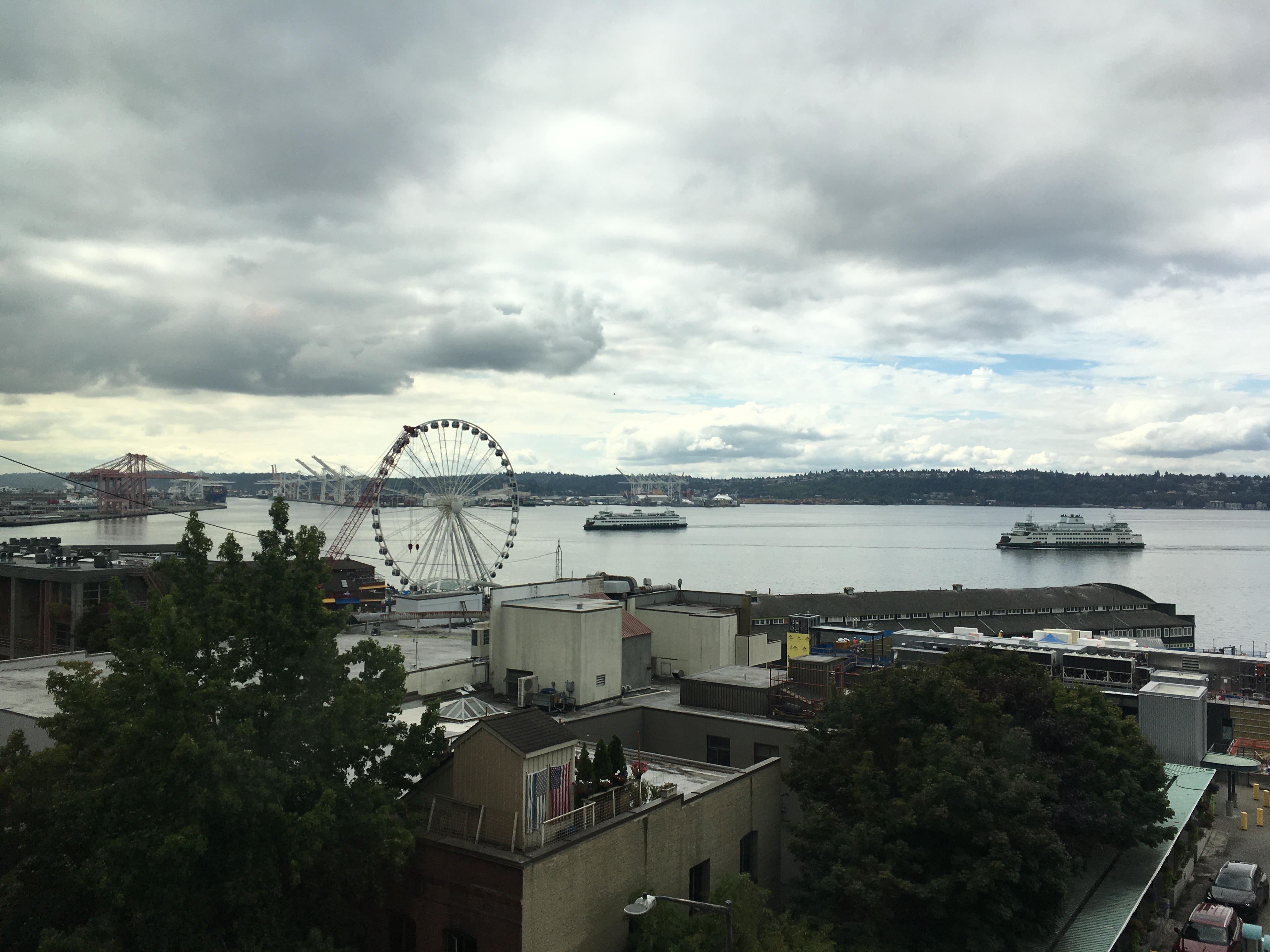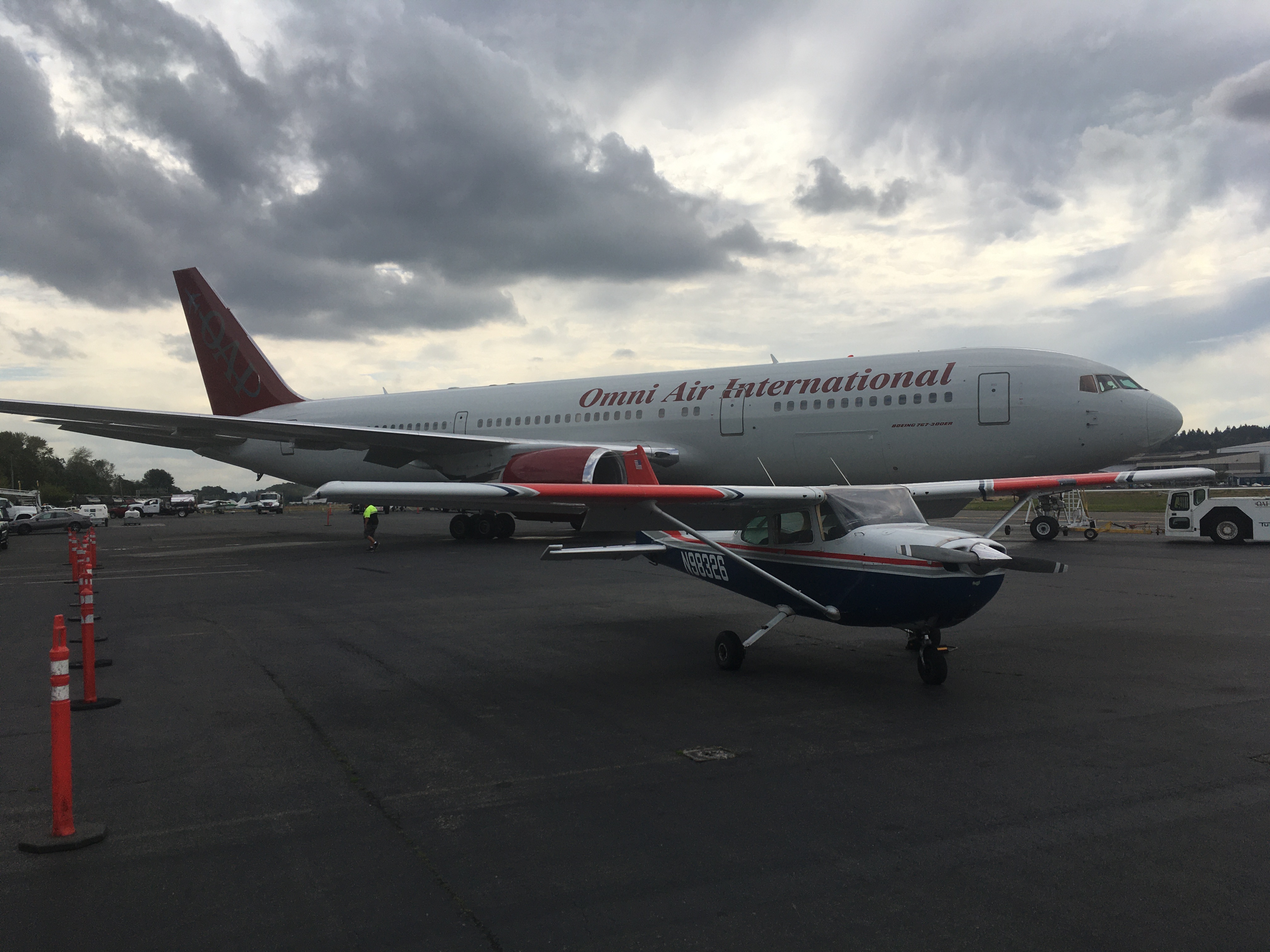 While most of the Olympic peninsula was clouded in, Puget sound and the Juan de Fuca strait were mostly clear, so I could fly north, then west, and make my way to Port Angeles. Nearly in the northwest corner of the contiguous US, it's close enough to see Vancouver Island from the air (and, as I soon learned, from the ground).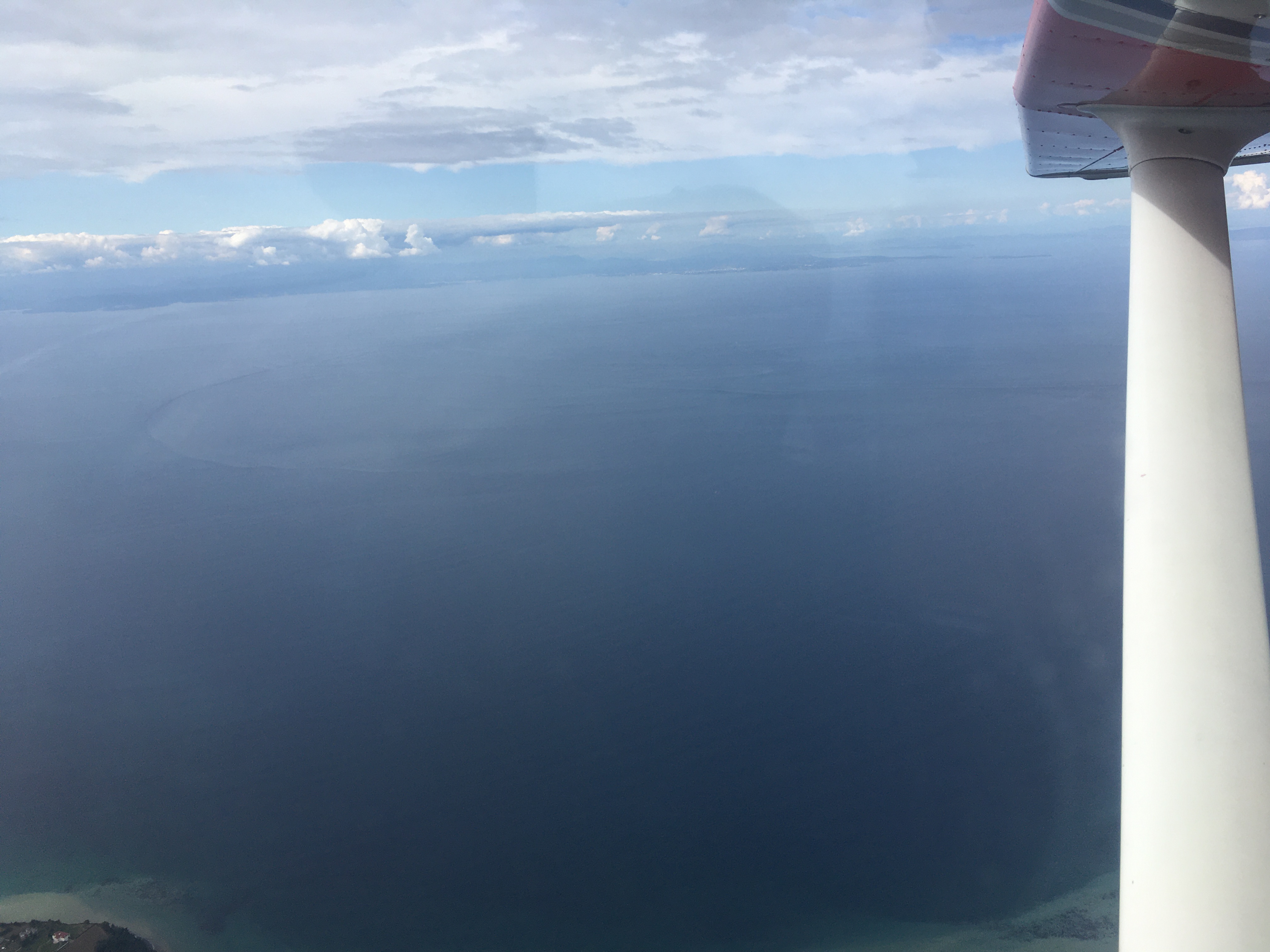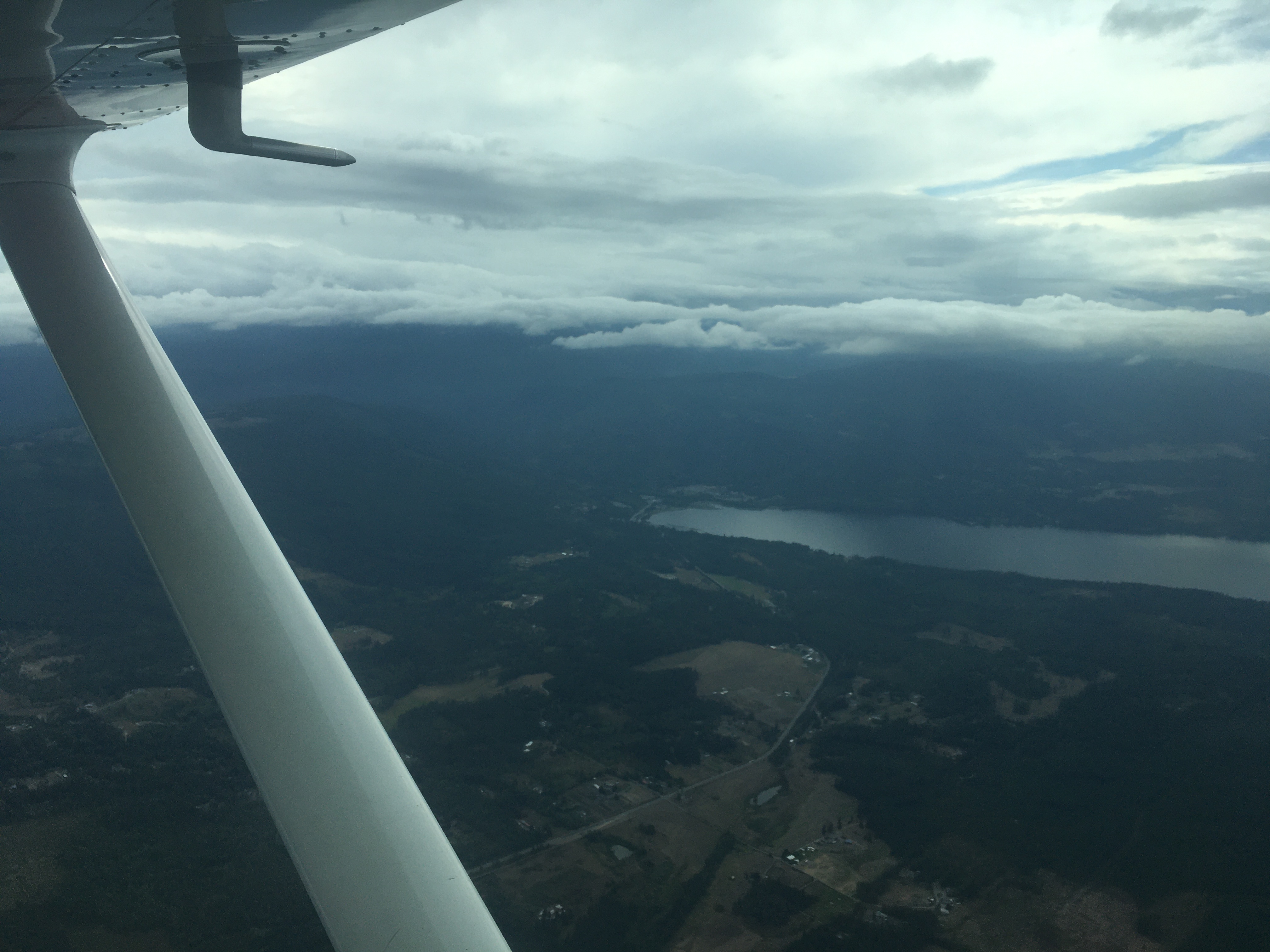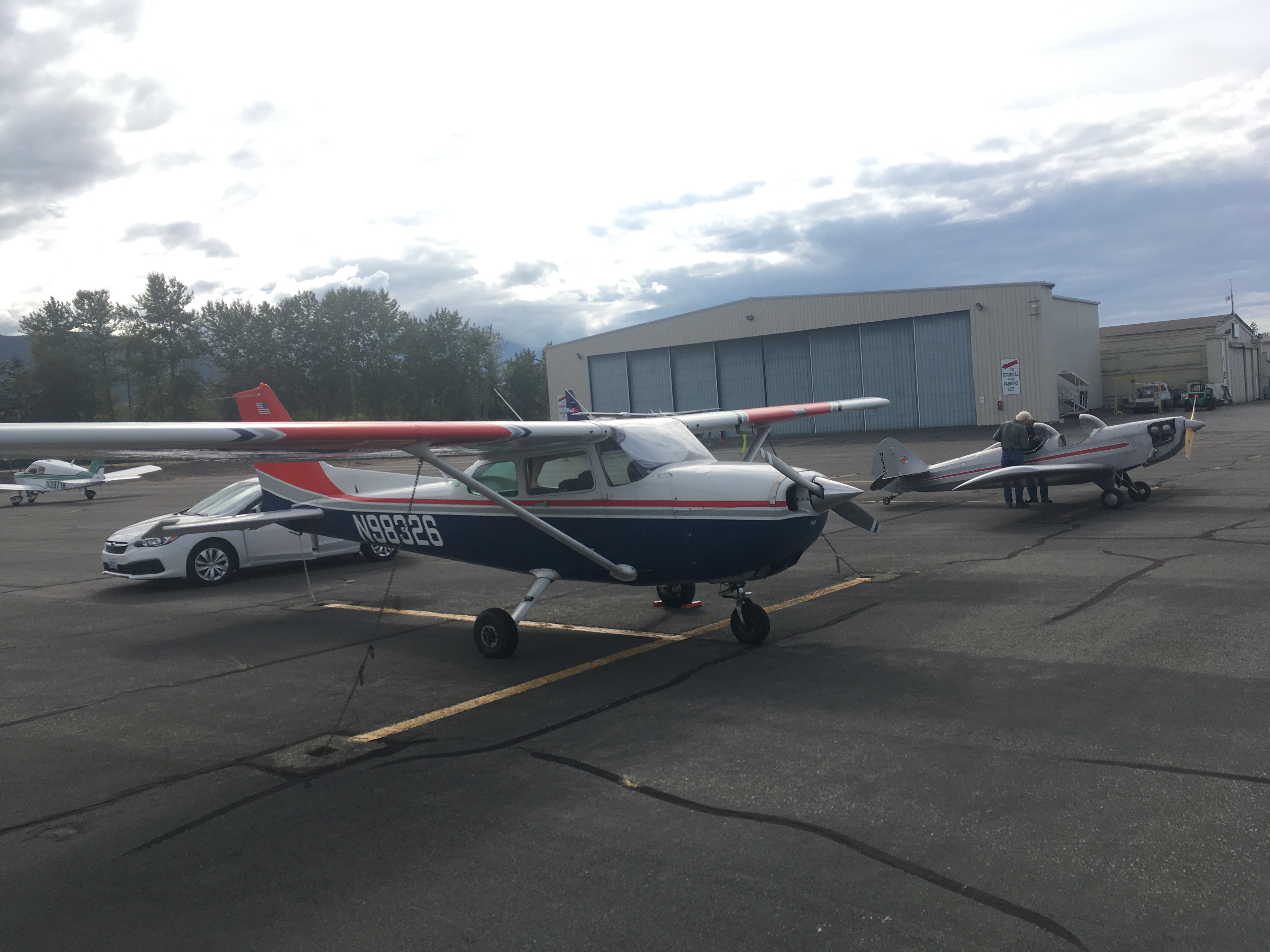 I had a rental car booked at the airport, and I zipped off to check out the coast quickly, at a place I'd been told by locals that otters could often be seen (there were no otters), then at the Salt Creek state recreation area, at which the internet said otters could often been seen (very pretty, but no otters) and then the Salmon Cascade (no salmon, minor cascade) and the short hike to Sol-Duc Falls (those were there for real) before it got too dark. Then to a hotel and straight to bed.
Thursday morning was an early start – I wanted to get to the Hoh rainforest early, since they limit the number of vehicles which can visit the park each day and it's very popular. Even the drive to get there is very scenic, but I made it to the visitors' centre before the parking was full. The forest is one my favourite places to be, and this is a nice one. It's a true temperate rainforest, so there's lots of moss hardly a bare spot of ground, but it was a beautiful sunny day, so it was actually a dry hike (if very humid). Despite recent reported sightings, I didn't have any luck with otters here either, but there were squirrels, birds, elk, and a snake, (not all of which were readily photographed).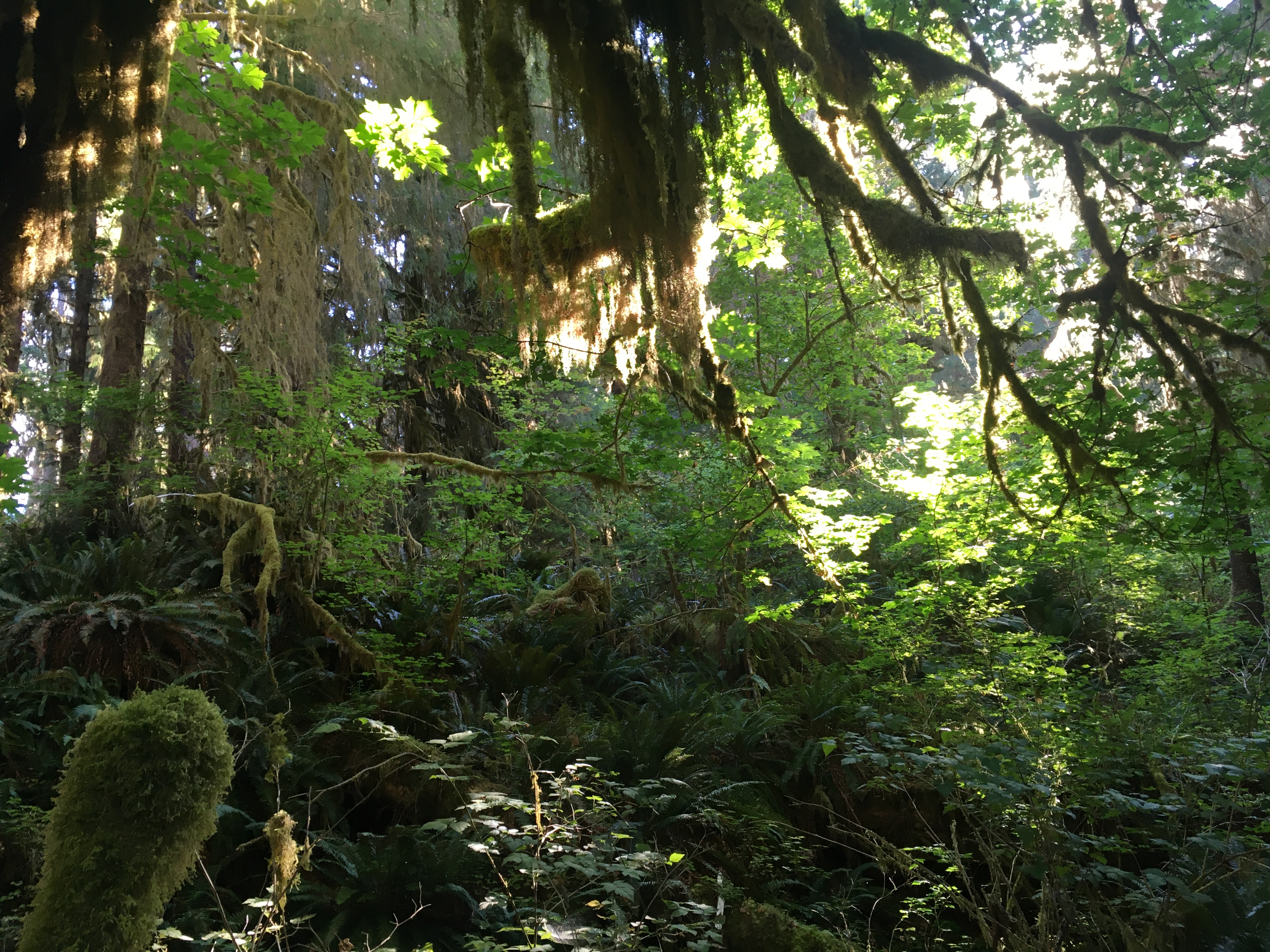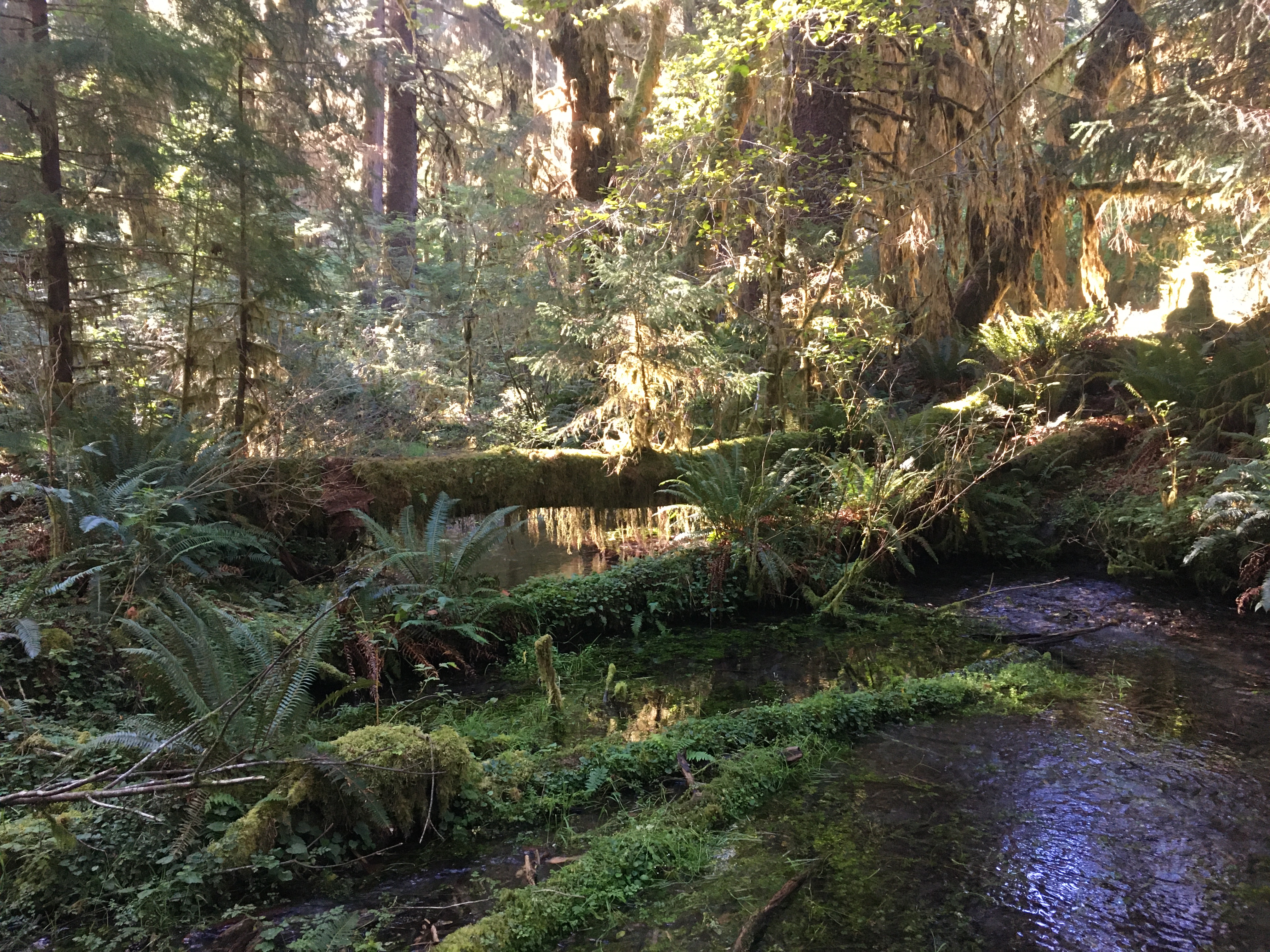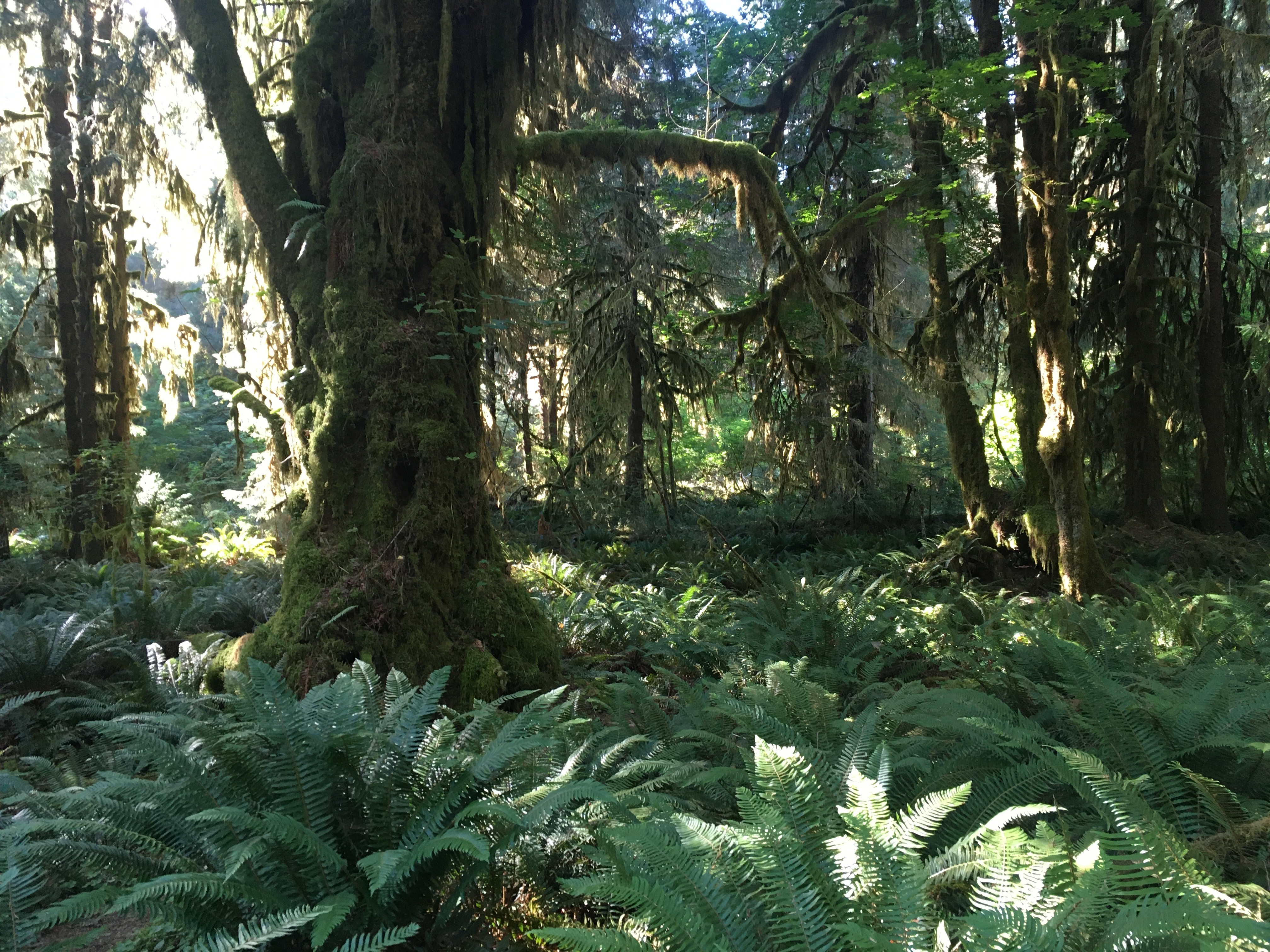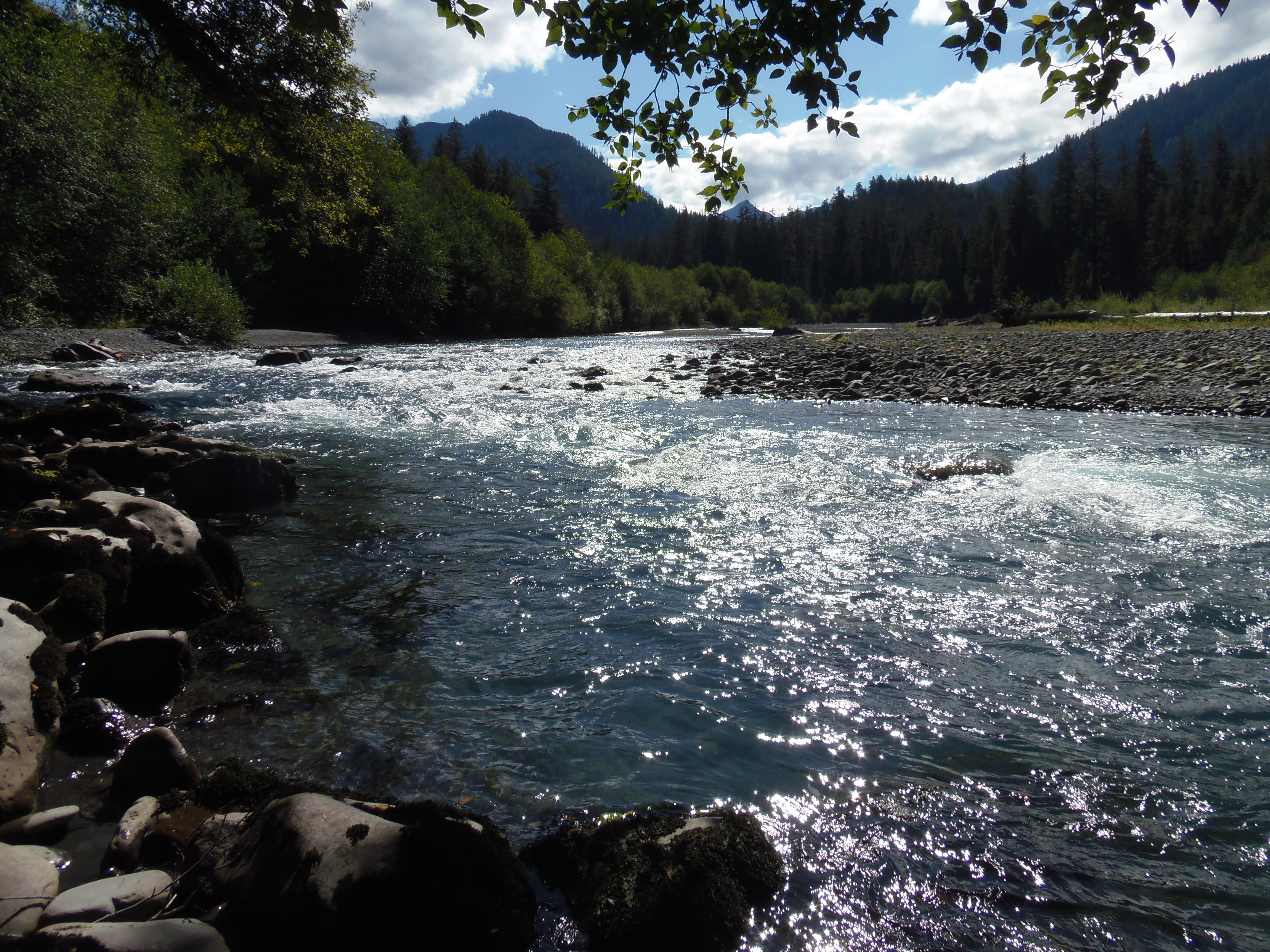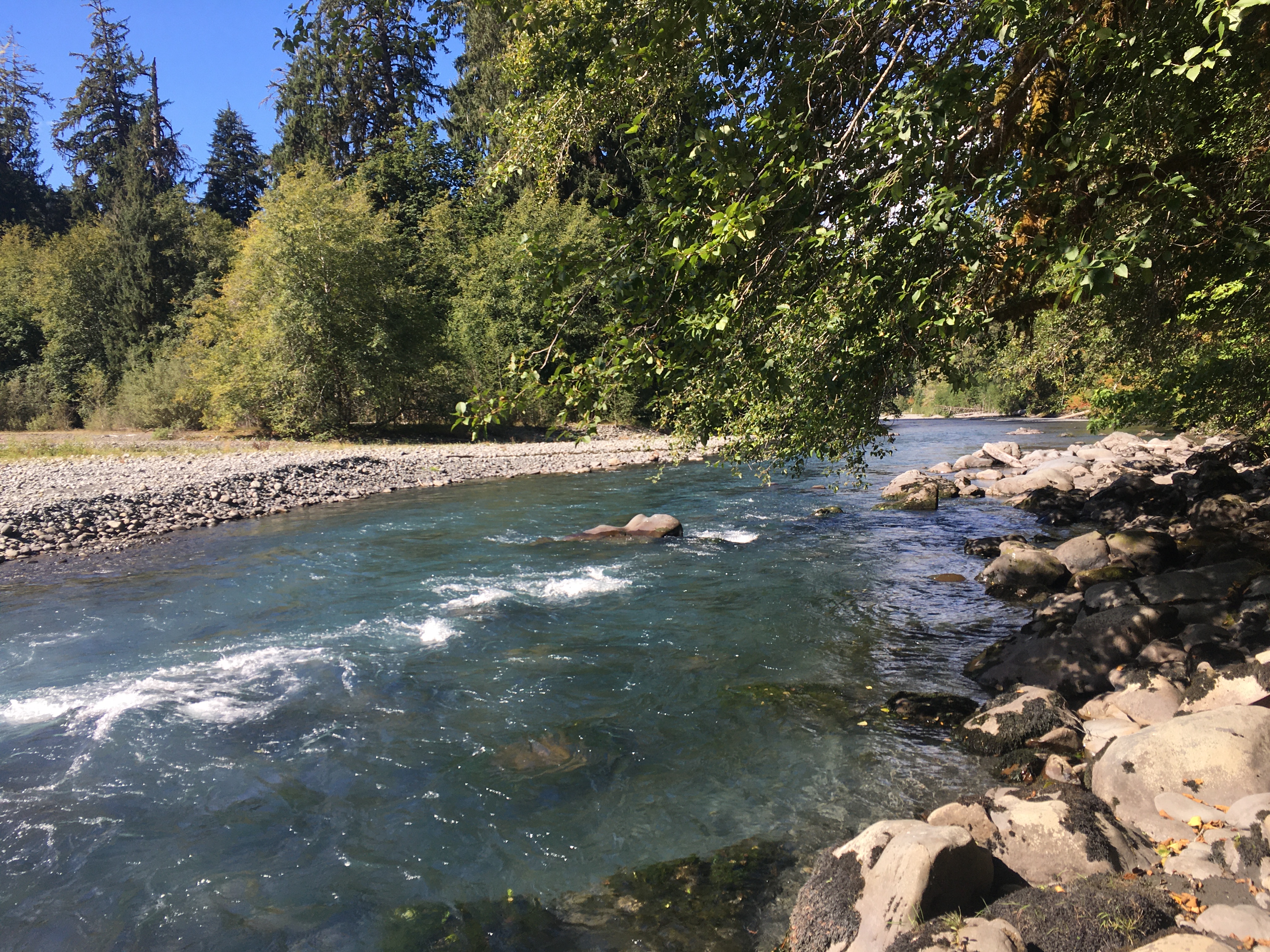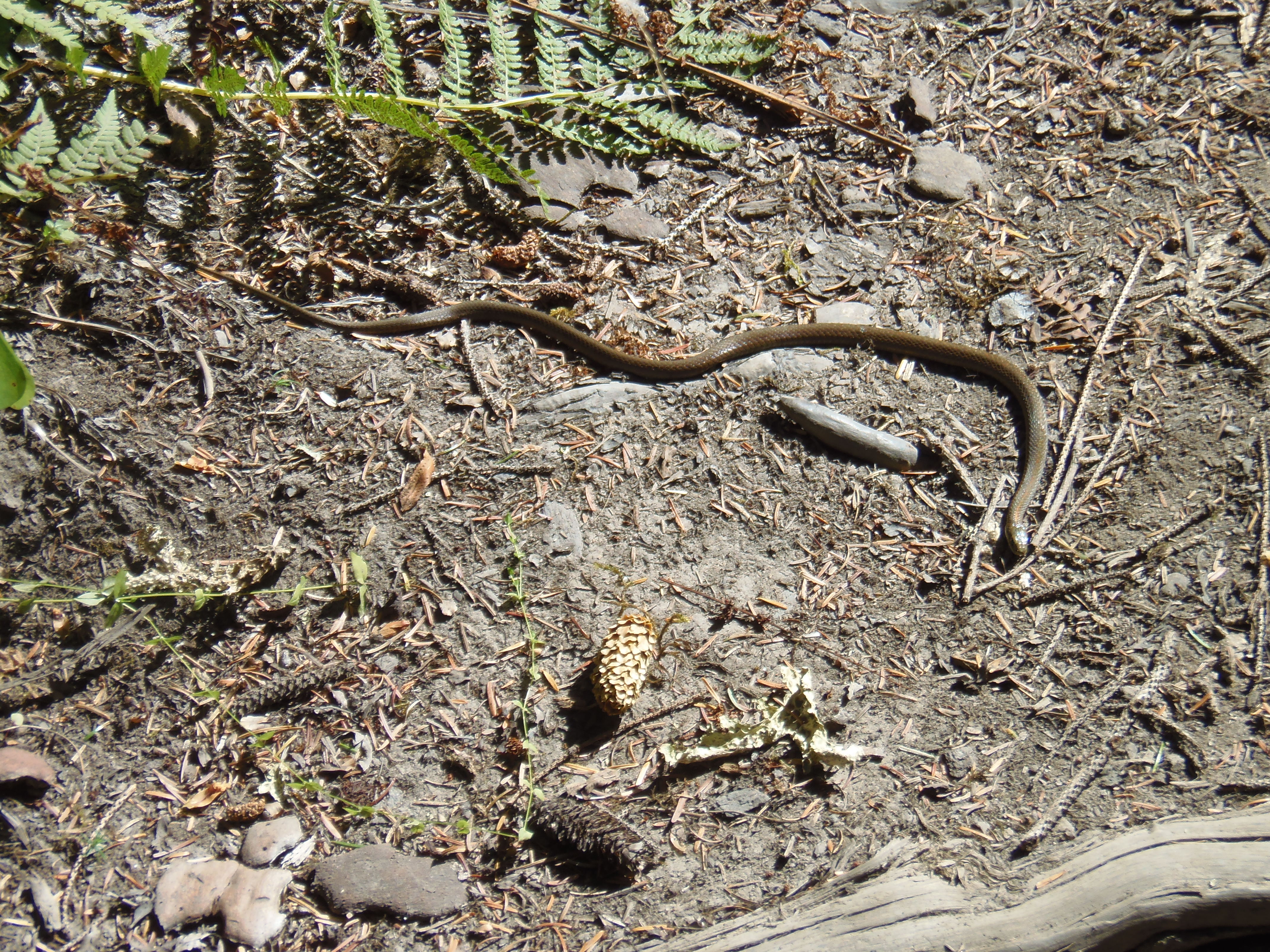 Having explored the short trails, and several kilometres of the long one (it's a multi-day thing to do it all), I had some lunch and hit the road to see the coast. Second Beach, west of the Quillayute airport, has a short hiking trail through coastal forest, down to a beach with driftwood, crashing surf, spires and natural arches. It's gorgeous. Supposedly marine mammals (whales, sea and river otters, and seals) can be seen here and at nearby First Beach, but I didn't have any luck at either. Still, a wonderful way to finish the afternoon before driving back past Crescent Lake. Dinner was take-out from Port Angeles' main Chinese restaurant, which I ate while doing flight planning for the next morning.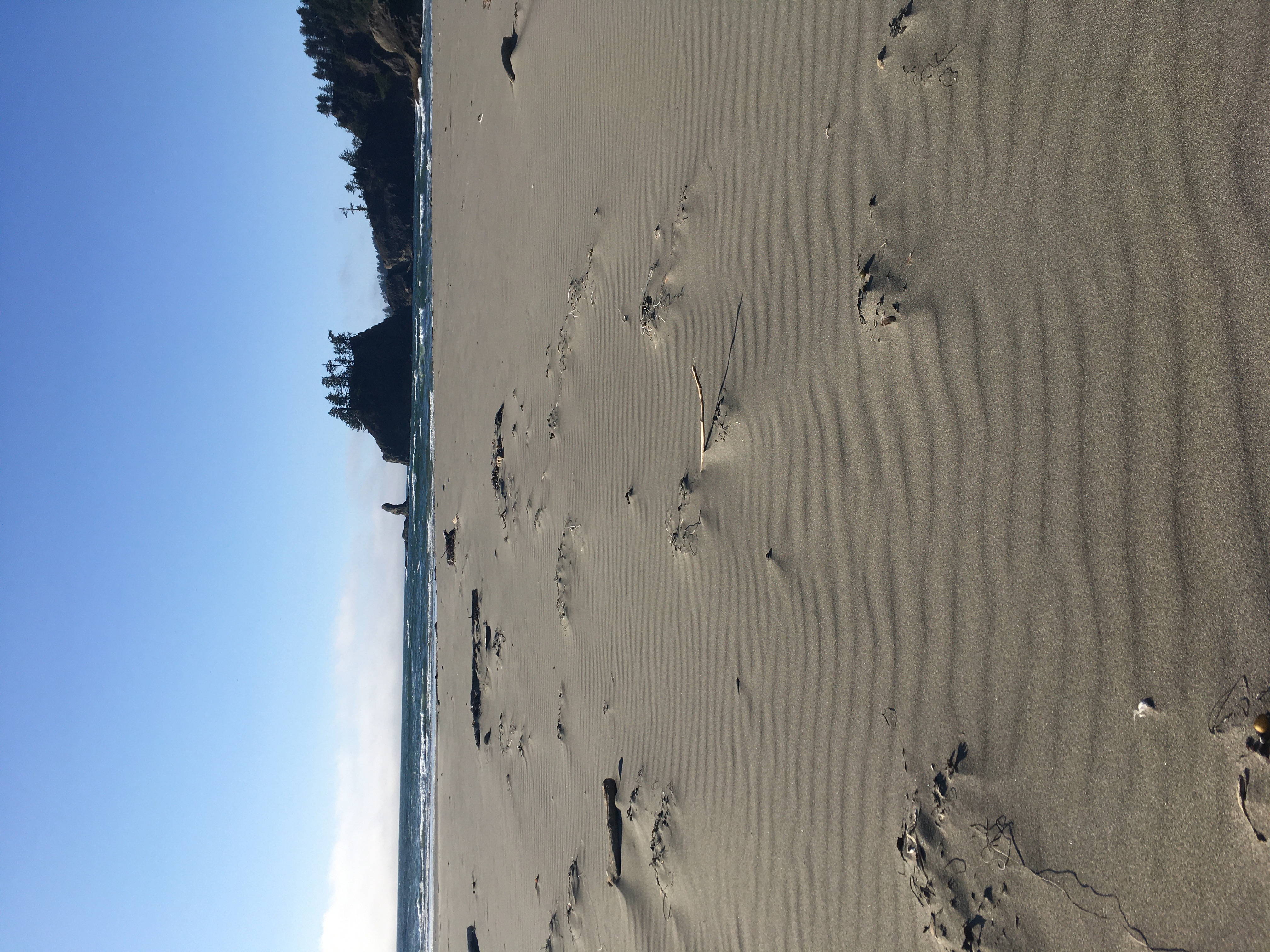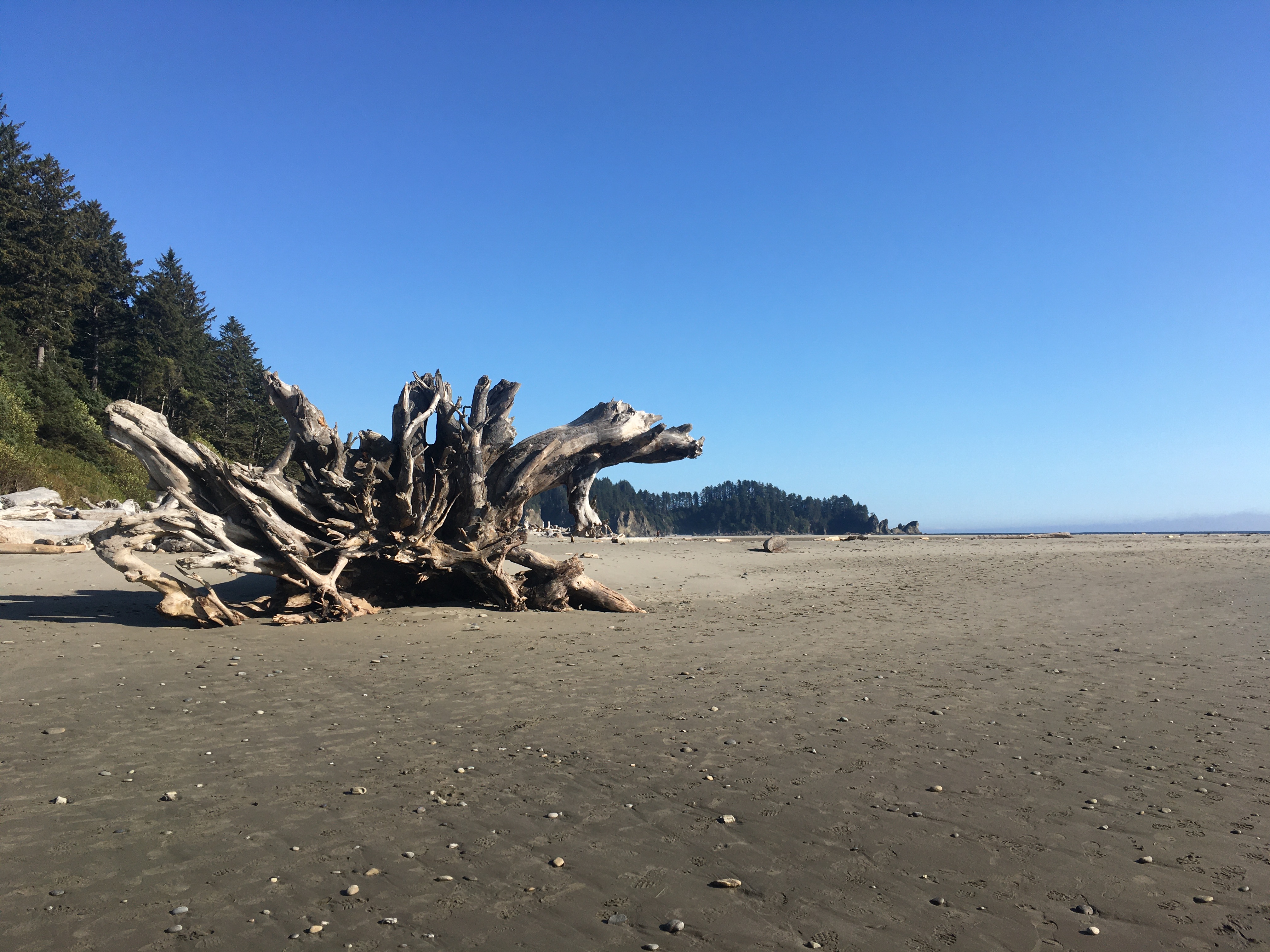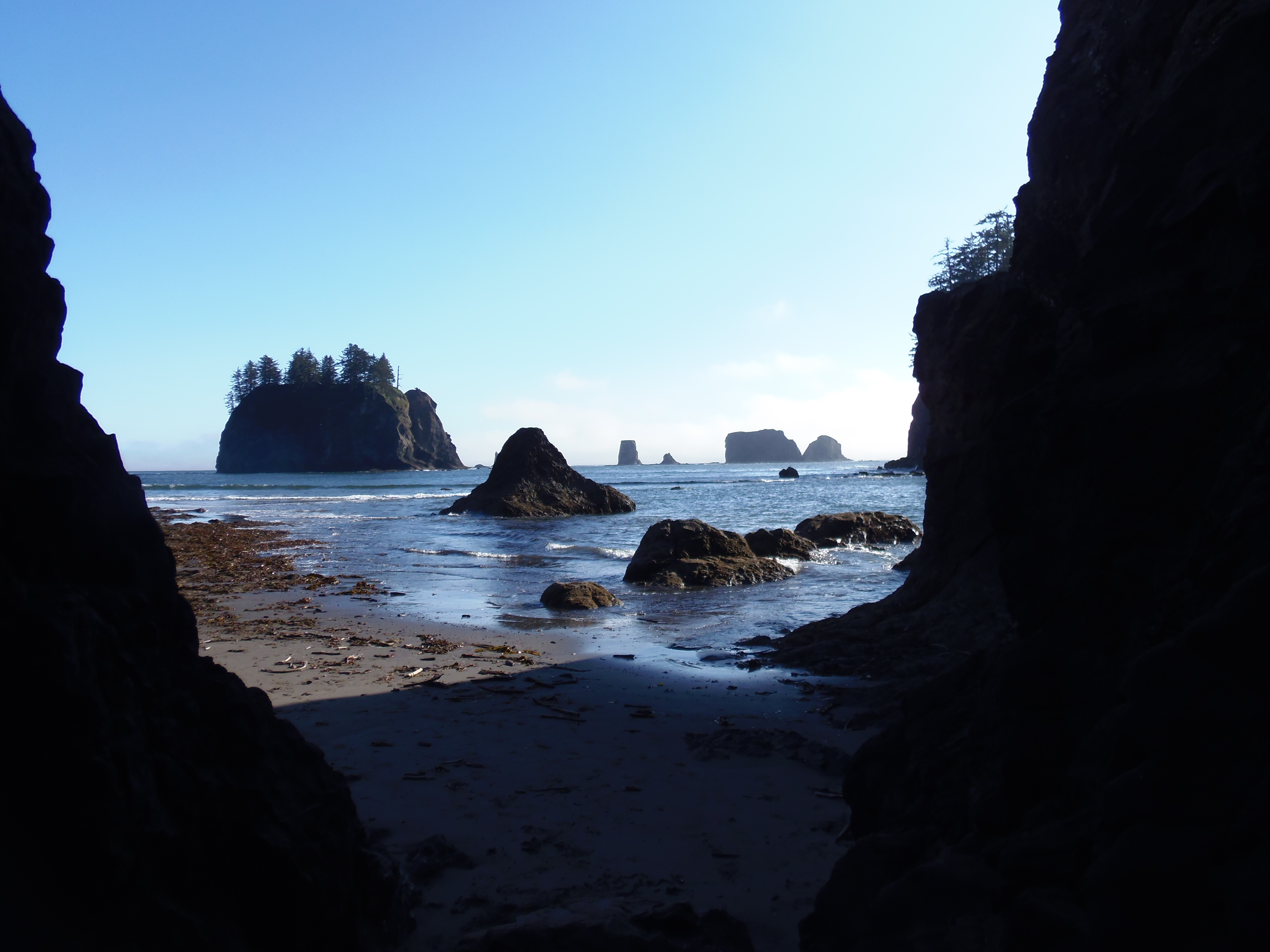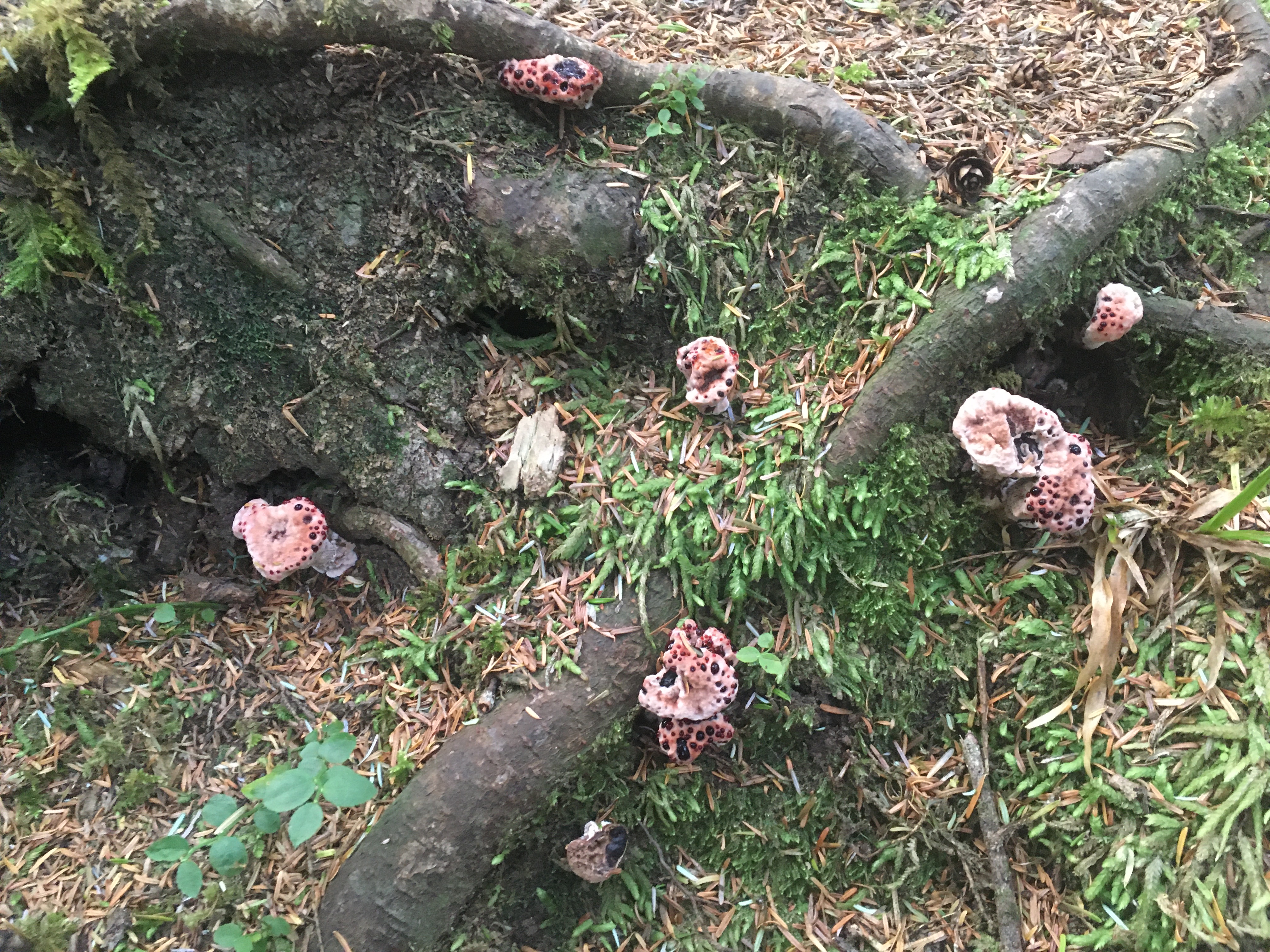 After several busy days, Friday was a more relaxed morning, but the first big event was a flight along the coast. A big goal of this trip was aerial sightseeing; I covered a big part of that with the volcanoes, the cities, and the archipelago north of Seattle, but the coast can be hard to see because it's so foggy. I was fortunate to have a gorgeous, sunny day, and I flew west from Port Angeles, passing north of Mount Olympus, to the coast near Quillayute, right where I had been the afternoon before. Then I followed the coast all the way to Astoria, scanning the beaches and sea cliffs, gazing out into the expanse of the Pacific, and watching for landing strips the whole way. Having crossed the Columbia river at Astoria, I turned inland, and made for another airfield in the Portland suburbs.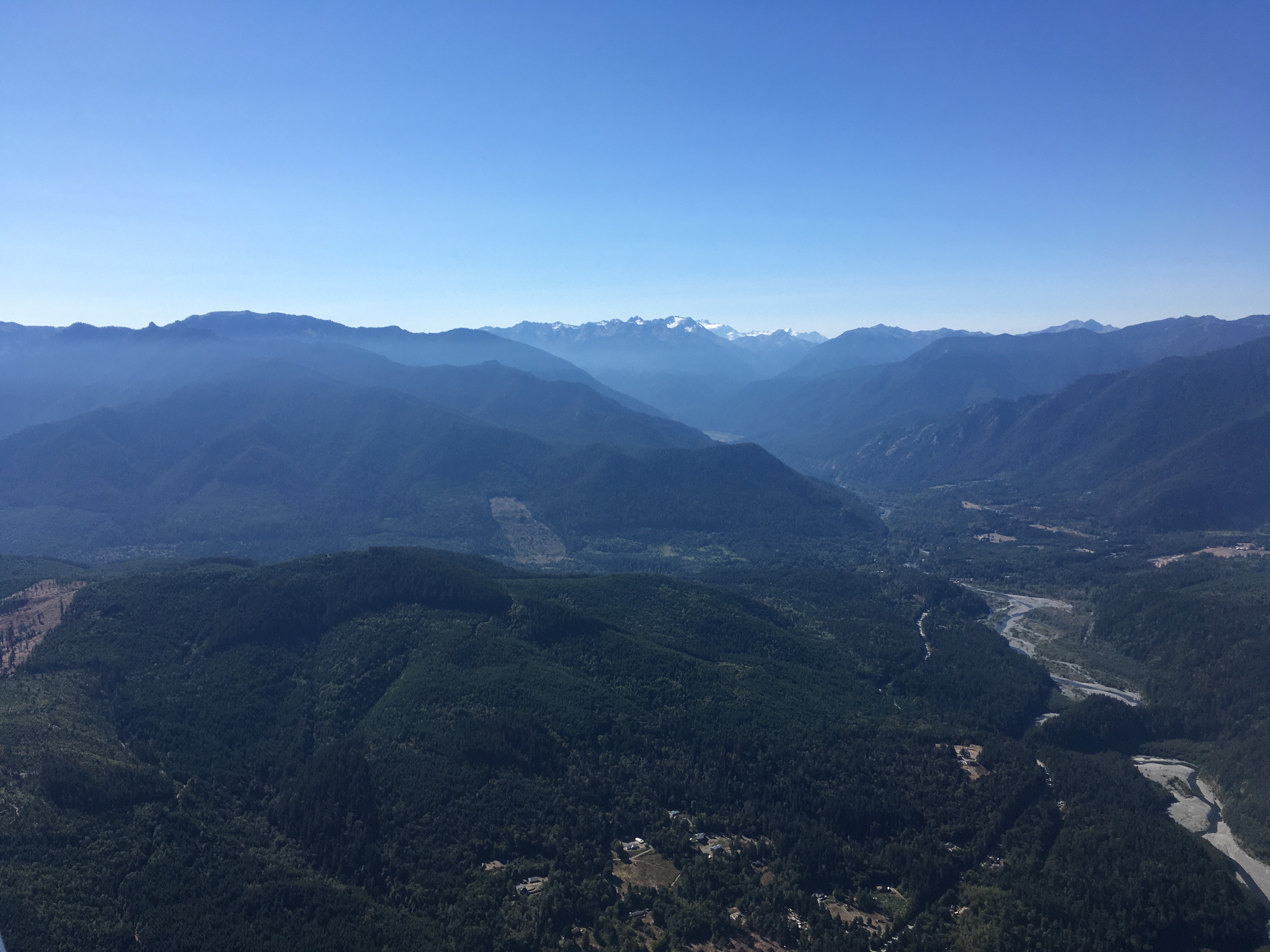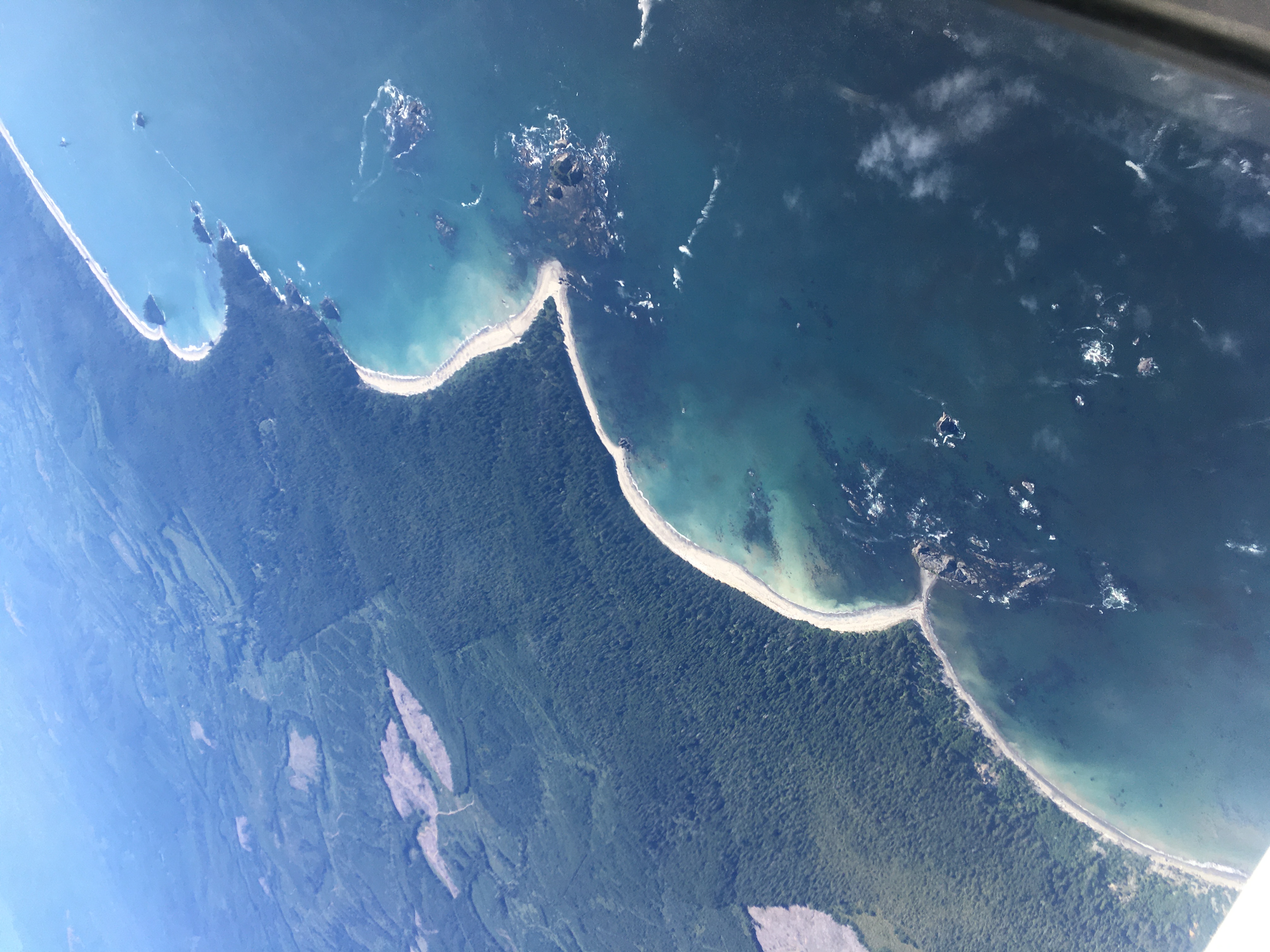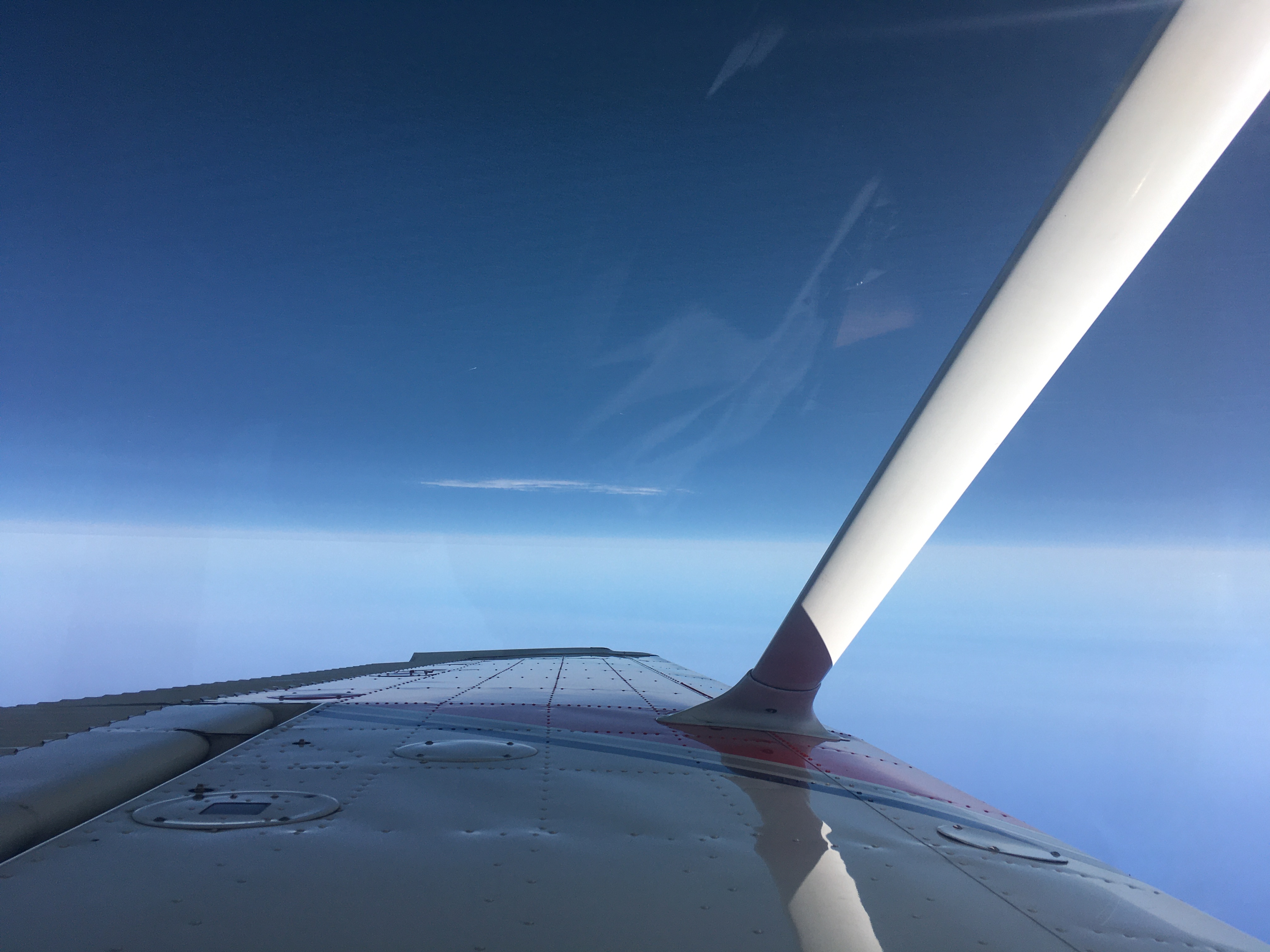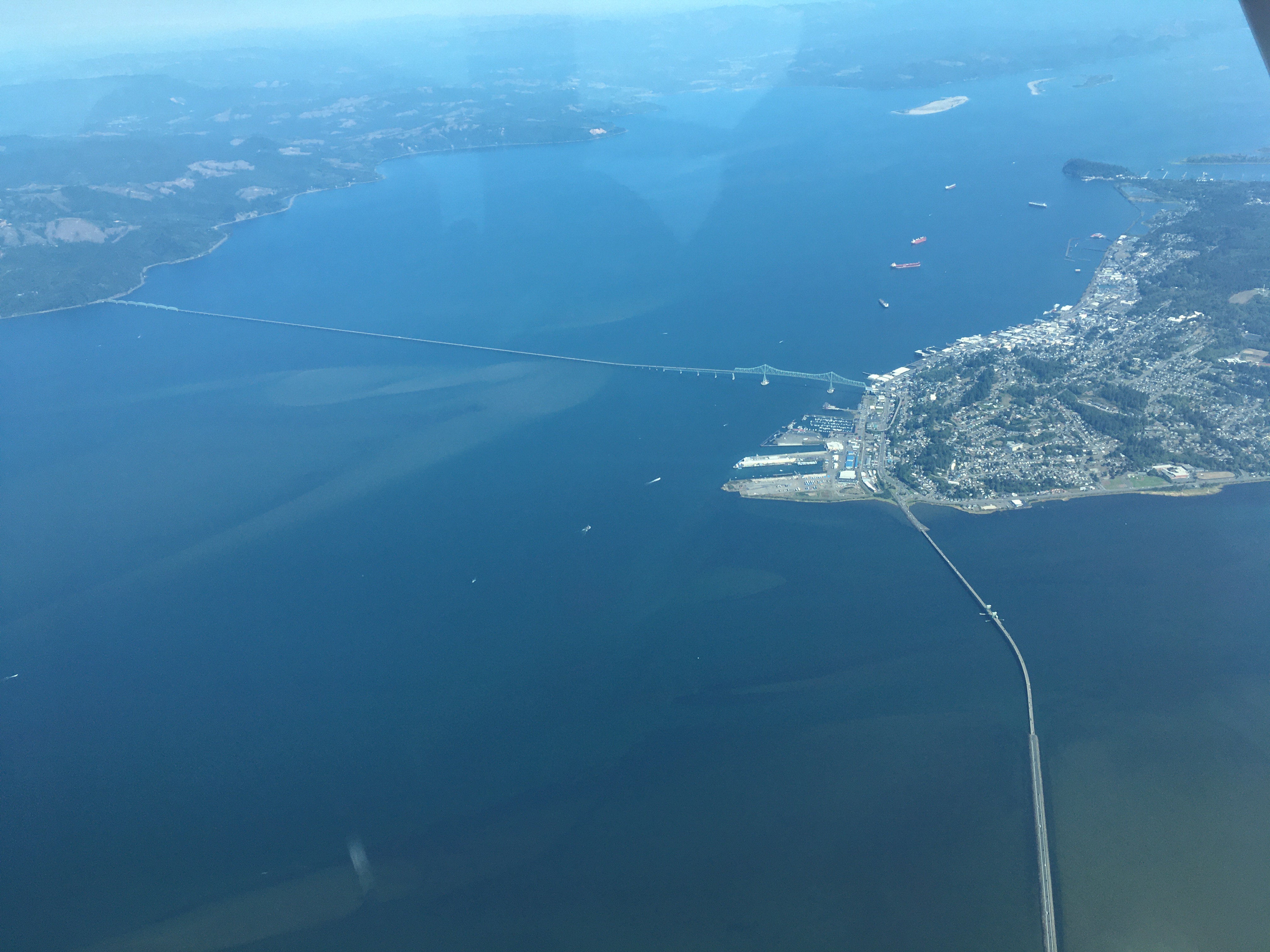 This town is called Vancouver, Washington. It's named after the same sea captain (and thus ultimately the same Dutch town) as the larger city in British Columbia. I get the impression it's a sort of London, Ontario, thing, where you pretty much always have to specify you're talking about the less-famous Vancouver.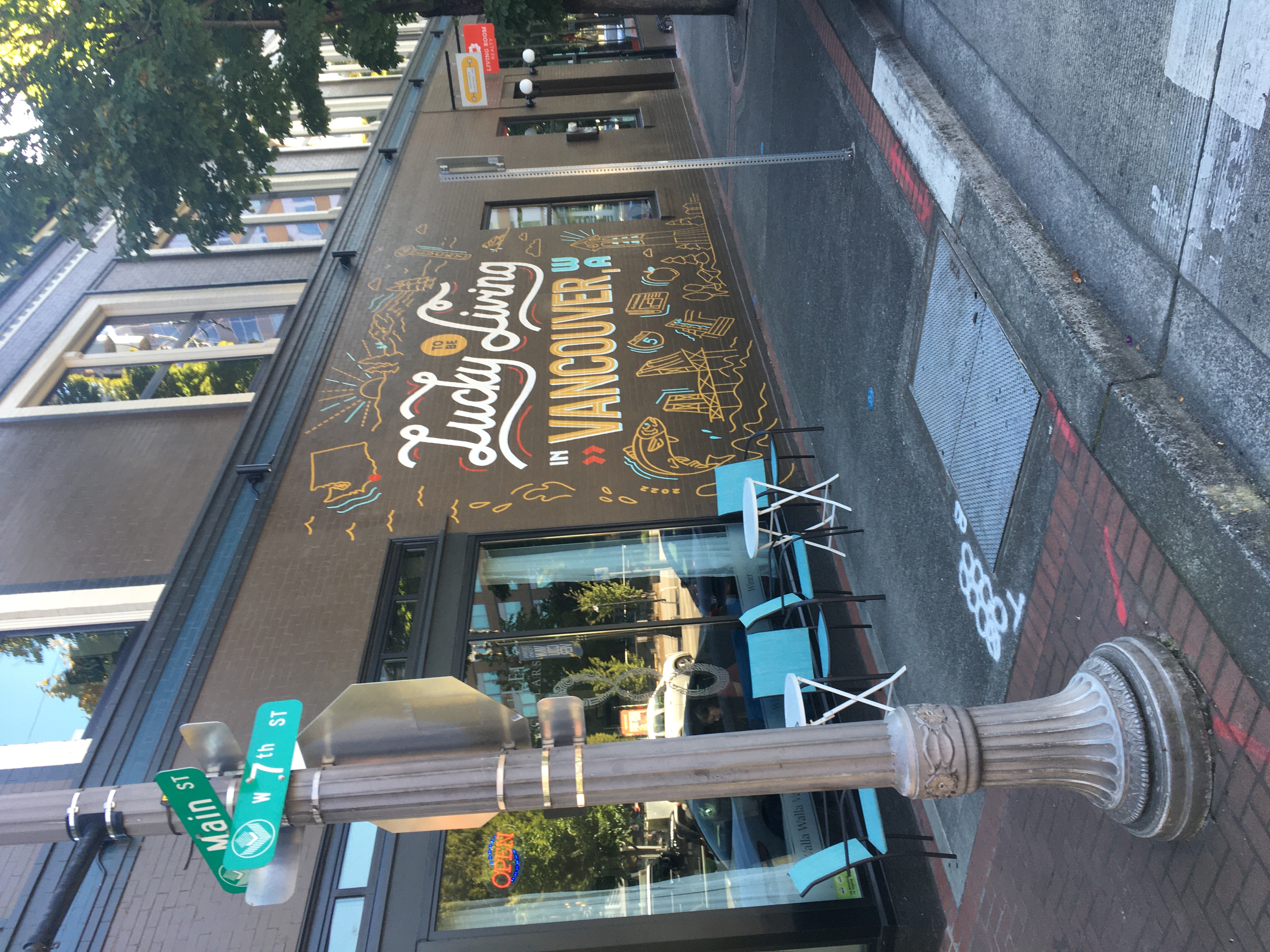 It's home to the oldest continuously-operating airport in the US west of the Mississippi river, which, perhaps to avoid confusion with the much larger airport in Canada is known as 'Pearson' (whoops). It's a busy little field, and it also has special procedures because of its proximity to Portland's main airport.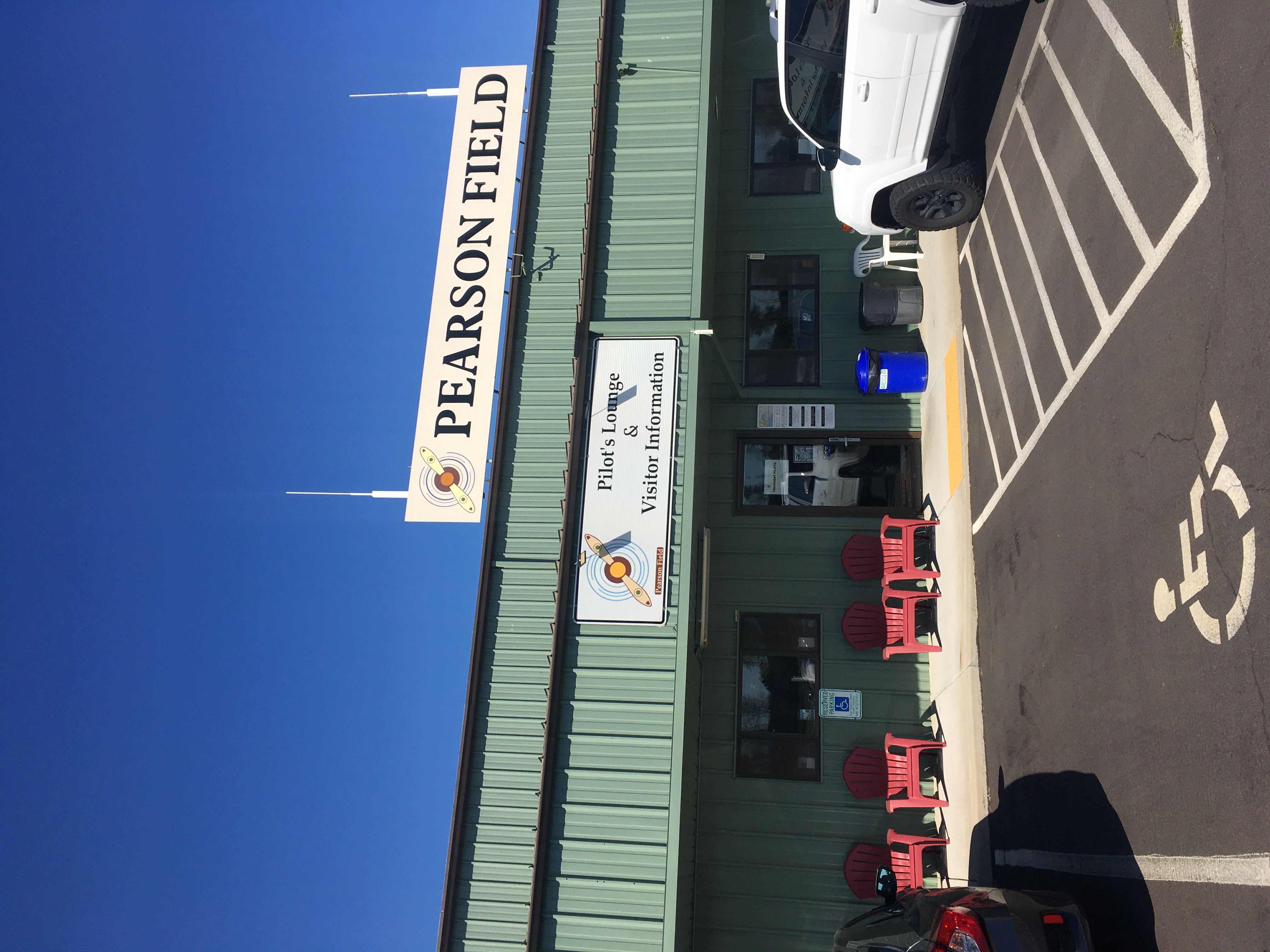 I fueled and parked the plane, and hopped on the folding bike. I looked around a bit at downtown Vancouver (with shawarma at Falahi Bros, which serves some delightful tea straight from Kurdistan), and then biked across the bridge to Portland. There's a light rail line which runs downtown; I took that and biked through the riverfront park and the city centre. I spent a while at Powell's bookstore, which is sprawling and full of all manner of things (six shelves on aviation history, five on queer horror), and seems to have a special event with an author nearly every night. And then I headed back to Vancouver by train and bike.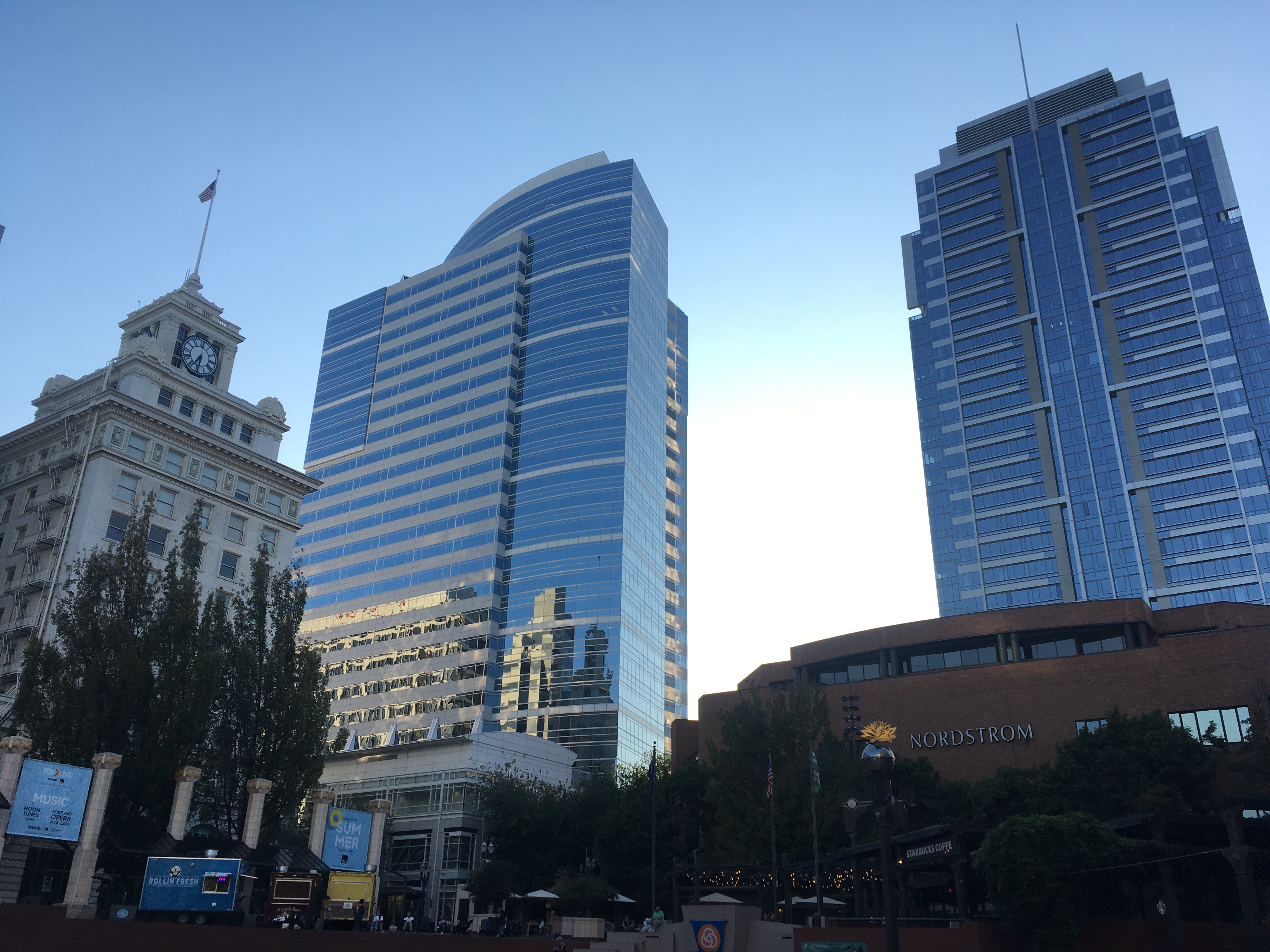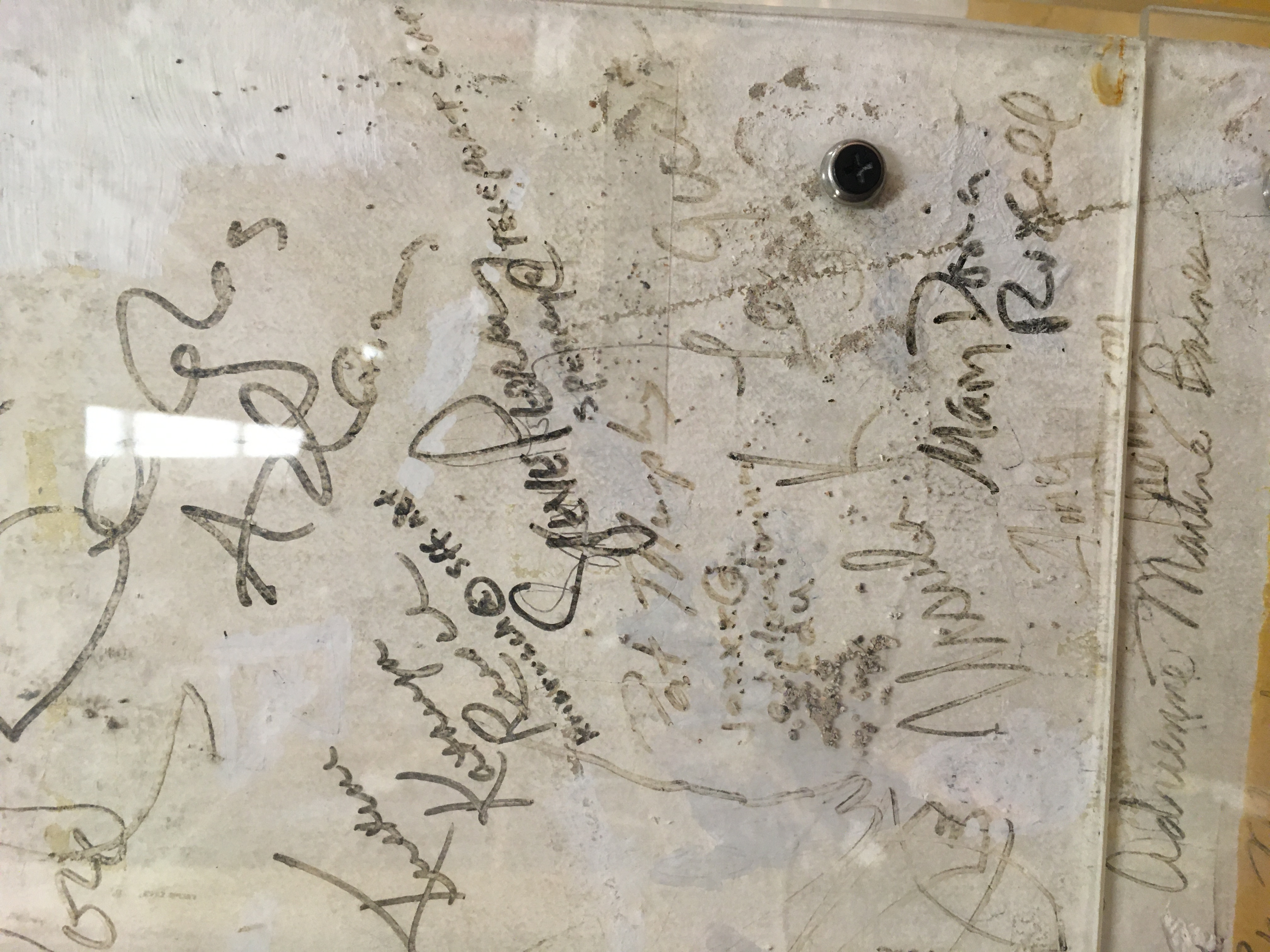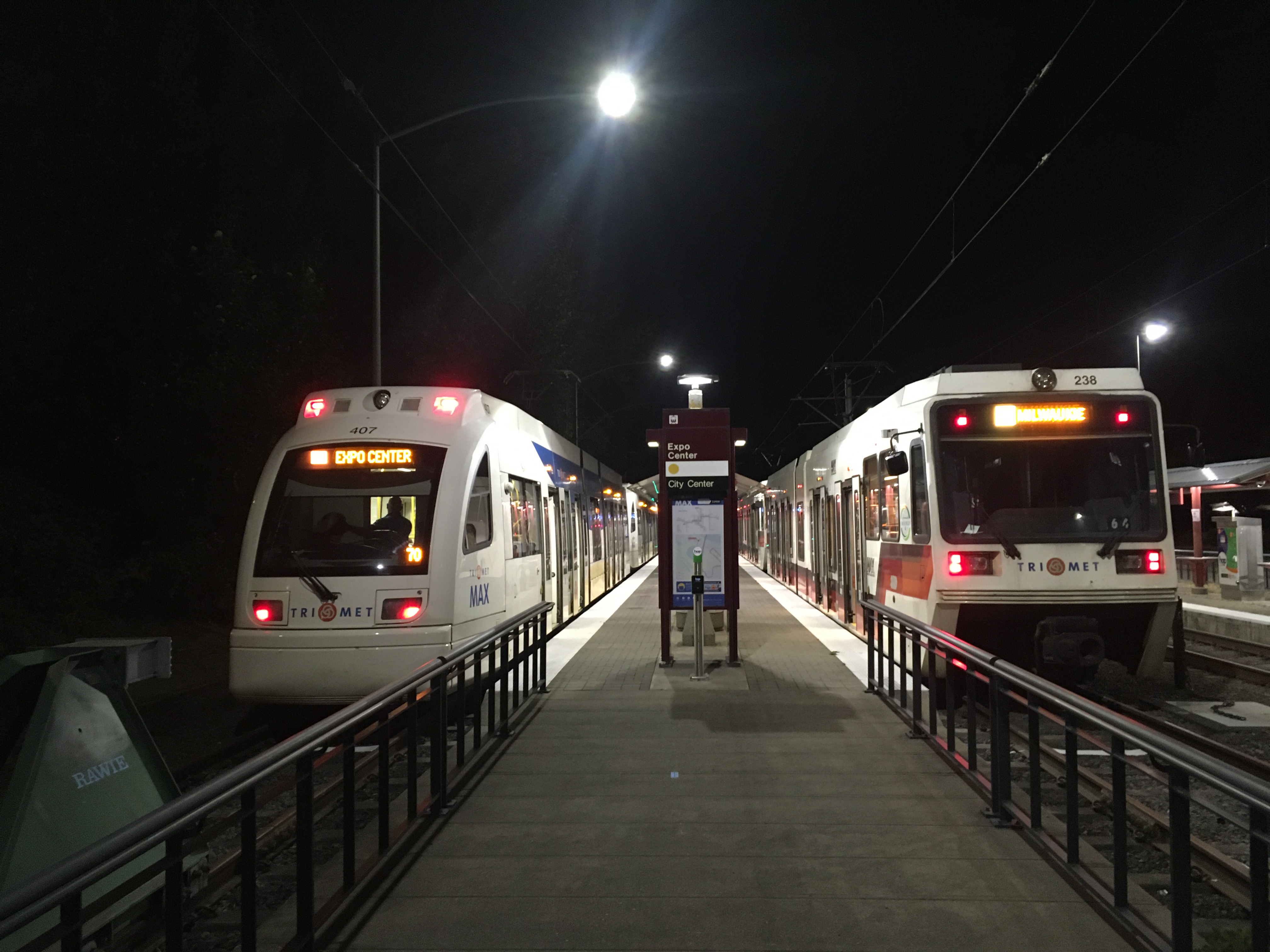 Which brings us to Saturday, and the flight home. I was up fairly early, but it took some time to review the weather; the coastal route was looking unreliable both for cloud and for airspace closed around numerous forest fires, so I opted to go back the way I had come north. Departure to the south from Pearson field is complicated by the Portland airspace, the terrain, and obstructions, but I got a great view of both cities on the way out. Then it was a long day of flying – first through a surprising amount of wildfire smoke in southern Oregon and northern California to Weed, then along the western foothills of the Sierra Nevada to Madera, and finally a sunset flight to El Monte via the Gorman pass.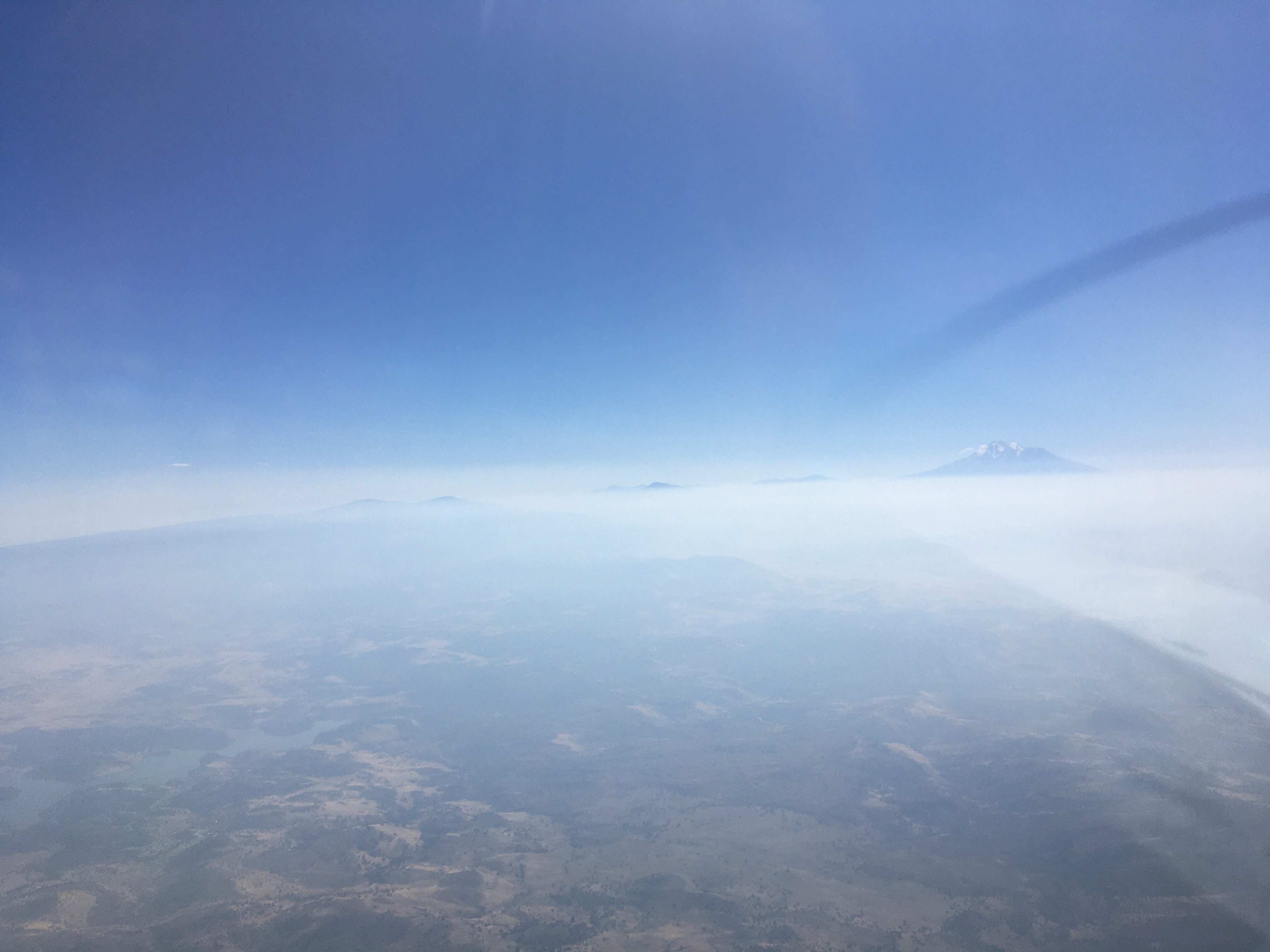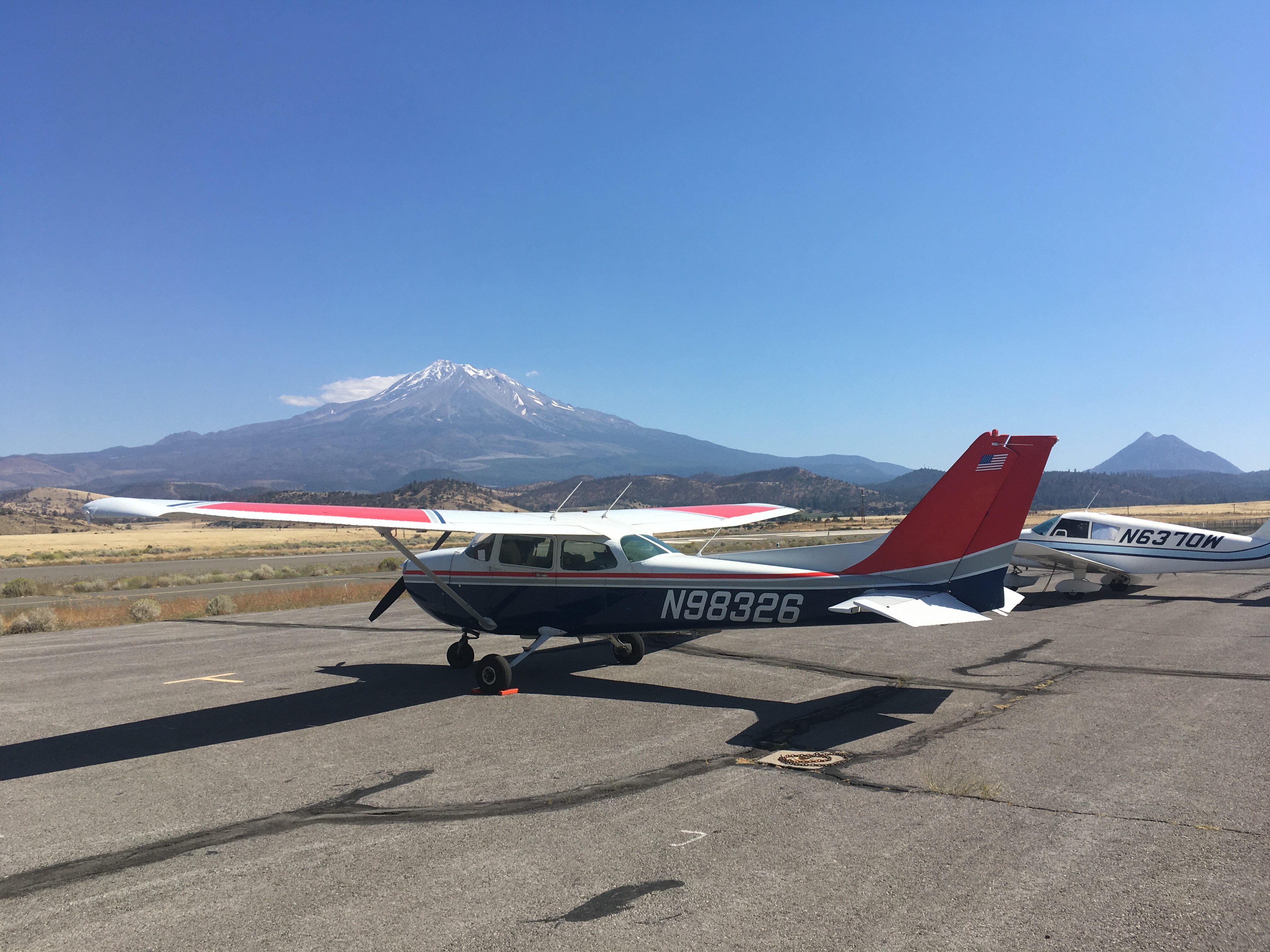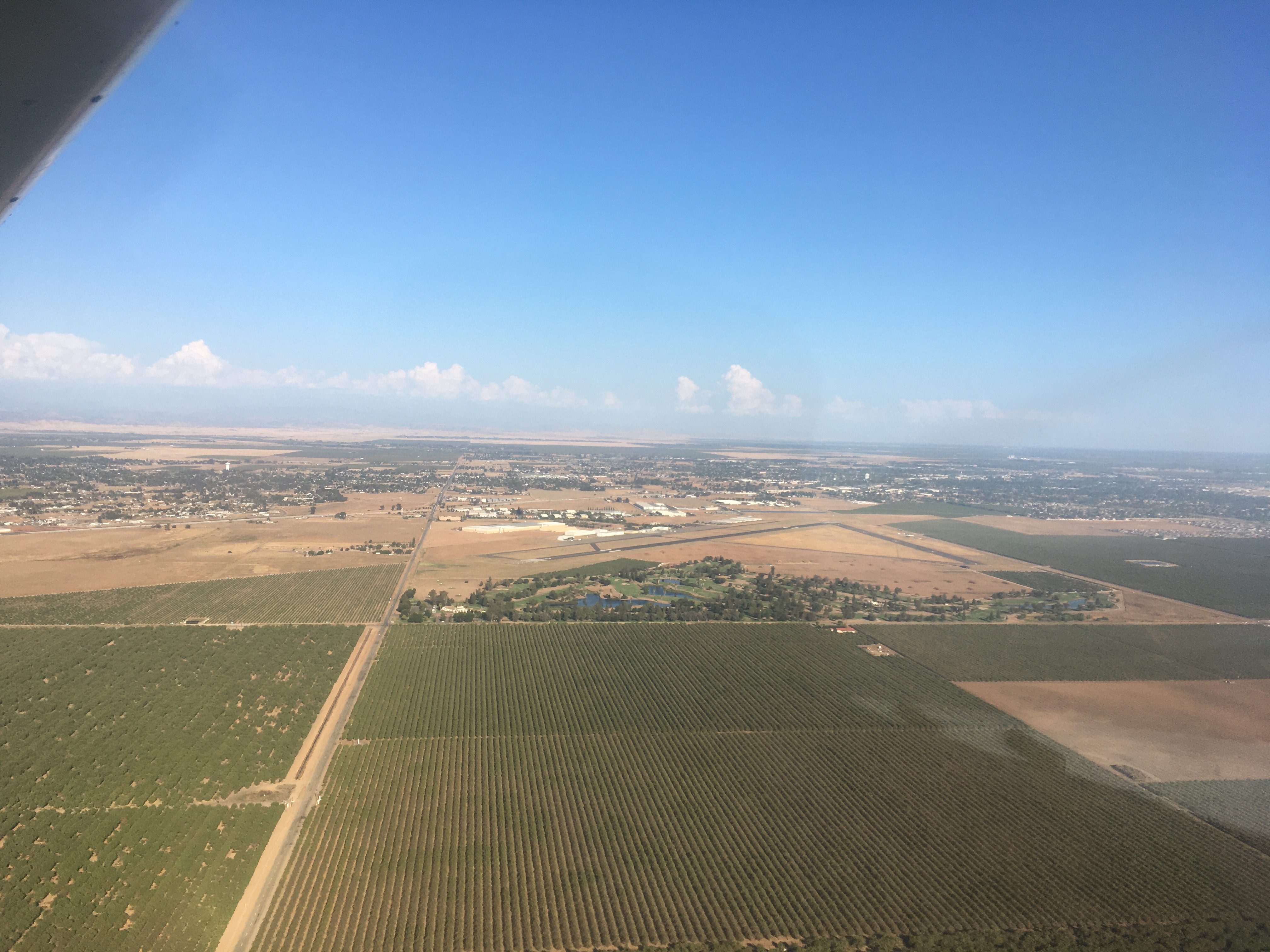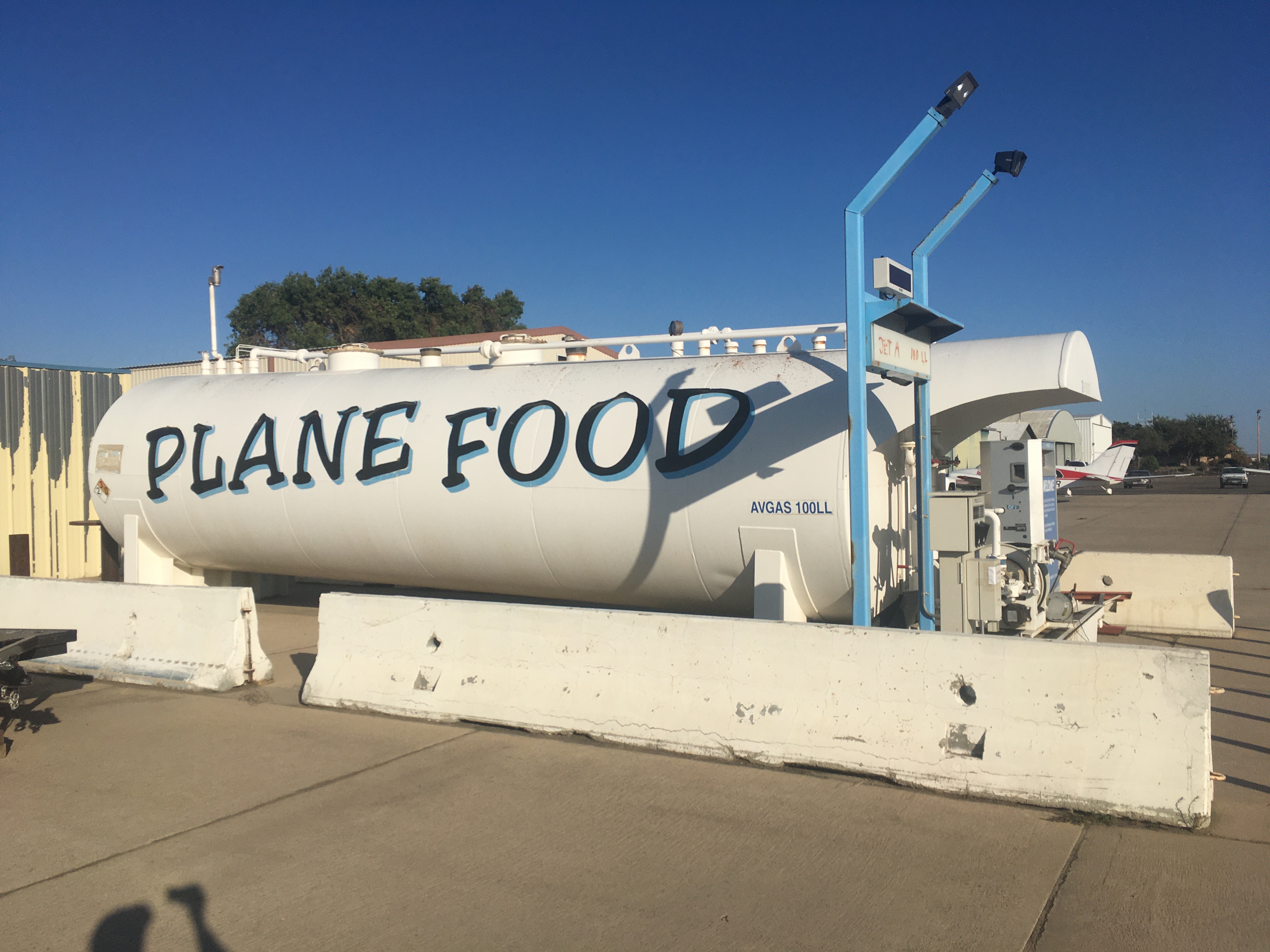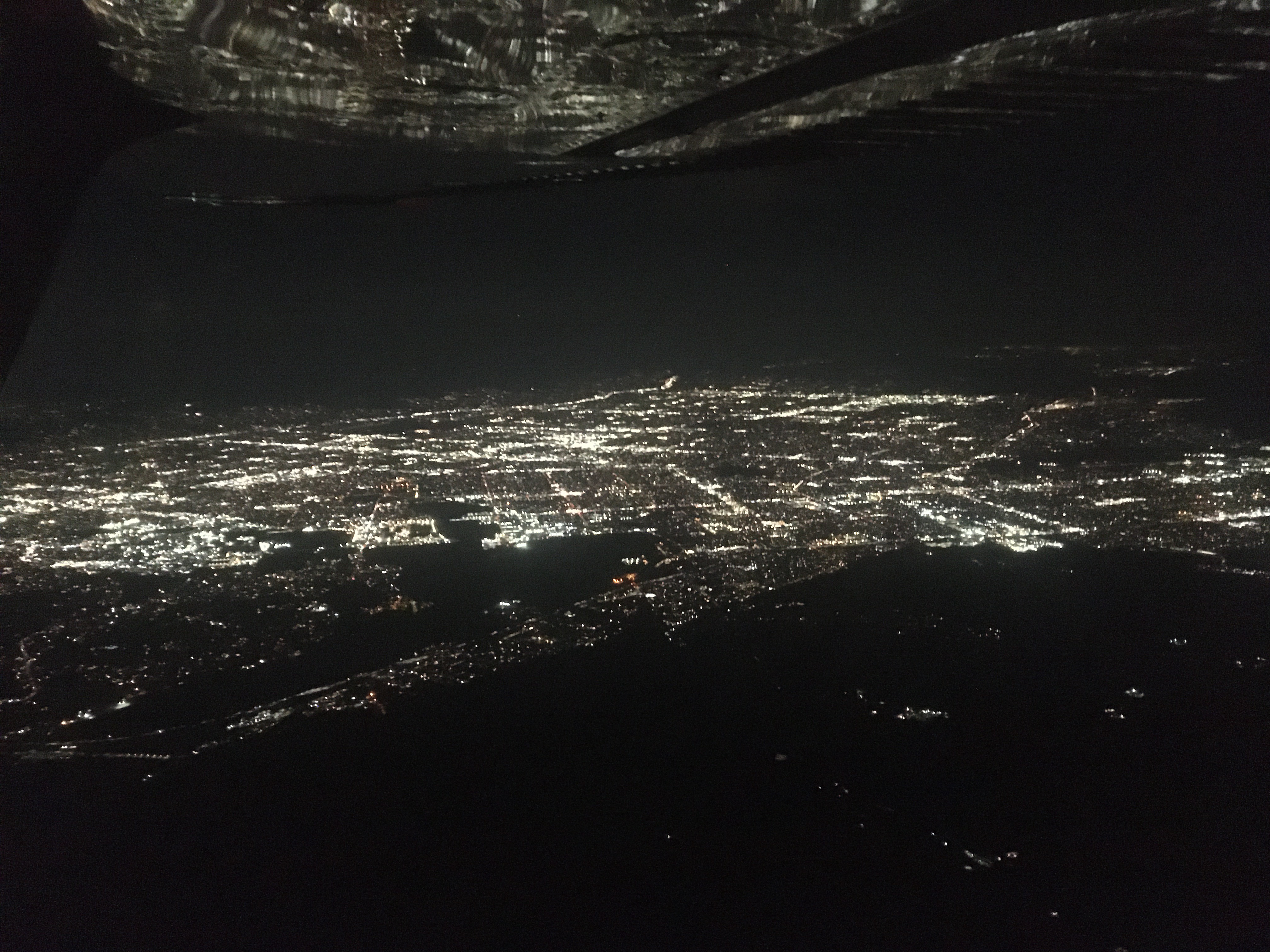 It was a good trip – a little more rushed than hoped because of weather early on, but I still covered most of my goals. I did some beautiful hikes, got a taste of Seattle and Portland (both have green spaces, rail infrastructure, and lively downtowns), flew to within sight of Canada, and got to to do some gorgeous sightseeing from the air and the ground. There's more to do in both the cities and the parks, and this trip left a gap in my exploration of the Pacific coast, between Astoria and Eureka. And I really will have to do better about finding aquatic mammals next time. But it was fun to take the plane and go for a week, to plan and replan, and to fly and explore. Here is, roughly, the final route: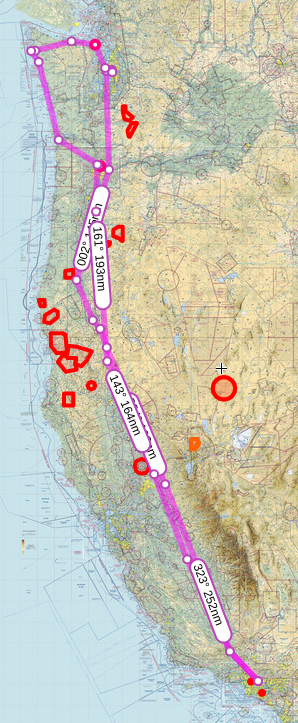 Over 7 days, I did 19.1 hours of flying, covering a distance of about 1920 nautical miles. There are plenty of places still to explore, but I'm glad this one has gone from aspiration to actualized. Maybe I'll go fill in that section of the coast north of Eureka next. Or maybe something new.
Altadena
2023-09-12